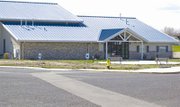 Eighteen months after it was mothballed due to budget cuts, the Sunnyside Community Center is set to re-open during spring break.
Sunnyside's Promise was recently given the opportunity to oversee the center, and will open the center starting this Thursday and Friday during teacher conferences in the school district.
The center will then be open Monday through Friday, March 29 to April 2, during spring break.
The hours of operation will be 10 a.m. to 7 p.m. each day.
Mark Baysinger is the director of Sunnyside's Promise, and he said the agency will be able to open the doors during the break because two grant-funded case workers will be available to run the facility.
Baysinger explained that the two staffers work with students in Sunnyside schools.
Since school is out during conferences and for spring break, Baysinger said the case workers will be available to open the community center.
A flurry of activities is scheduled at the community center each day. Following registration at 10 a.m. each day, there will be an open gym from 11 a.m. to noon.
After closing the center for lunch from noon to 1 p.m., activities will resume with a triple double academy from 1 to 3 p.m. and another open gym from 3:30 to 5 p.m.
Each day's schedule will wrap up with indoor soccer and flag football from 5 to 6 p.m. and clean up/set up from 6 to 7 p.m.
Other events and activities will include sports such as basketball, football, volleyball and soccer. In addition, activities will be offered to improve hand/eye coordination.
Activities focusing on health will include yoga, cardio challenges and take home exercises.
Baysinger hopes to see the community center open throughout the summer break, but said that will require receipt of a grant from the University of Washington that Sunnyside's Promise has applied for.
"We're looking for other money to hire a director for the community center," Baysinger said.
He added that volunteers are needed to help run the spring break activities at the community center.
"We need people working with us on getting the kids lined up for the activities we have planned and some help getting the kids registered," he said.
For more information or to help, call Sunnyside's Promise at 643-4262.