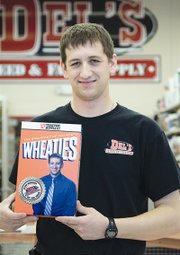 Scott Betz, manager of the Del's Feed and Farm Supply store in Sunnyside, got more than he bargained for when he went to a company meeting in Tennessee earlier this month.
While there, Betz was named store manager of the year, selected from among the 27 Del's Feed and Farm Supply stores in the nation, which are located primarily in Oregon, Washington and Idaho.
Owned by Tractor Supply, a national company with 1,000 stores, Del's Feed and Farm Supply honored Betz as its manager of the year based on criteria that included number of sales, as well as scores tracking customer loyalty and sales.
Betz has been at the store for two years, not long after the Sunnyside store opened.
He says the success stems in part from the large market for agricultural products in the Yakima Valley. Betz also noted, though, that his staff is a big reason as they help the customers "feel like part of the family."
Desiree Pritchett is a clerk at the Sunnyside Del's store and she praised Betz's efforts at working with customers. "He's a people person," she said.
Pritchett also noted that Betz networks with other store managers.
For his award, Betz received a plaque, watch and a Wheaties box with his likeness.
He says the goal now is to build on the success.
"We have to keep plugging and improve on what we're doing," Betz says.