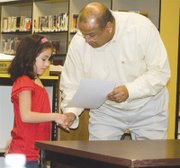 GRANDVIEW - Helping more teachers to be tech savvy in the classroom and better integrating computers with curriculum are part of the Grandview School District's technology plan for 2010-2013.
The Grandview School Board met last night, Monday, and approved the plan presented by district employees James Howard and Charley Kriewall.
Kriewall noted that funding for the school district's tech advancements depends on developing a state-approved plan.
The district plans to spend $154,000 in network and telecom upgrades over the next three years, but Kriewall noted that the figure represents just 10 percent of the total cost because the remainder is covered through grants and special pricing provided to school districts.
The plan is due to the state by April 5 and Kriewall said Grandview schools should hear back by June or July whether the plan is approved.
Key elements include having 100 percent of all the district's administrators fully proficient in technology. Proficient means able to operate technology in the areas of operating, troubleshooting, professional development and the use of instructional tools.
According to the results from a self-test administrators have taken, Kriewall said 72 percent of them are proficient in technology.
Just under 41 percent of teachers, according to the same self test, are proficient in technology. Kriewall said the plan's goal is to up that to 50 percent of all teachers.
He said it's going to be difficult to increase that percentage by much more than that between now and 2013.
"There's no clearly defined time for technology training," he said of the district's schedule for ongoing teacher improvement throughout the year.
School board member Tim Grow encouraged the district to have a bigger vision for the future, noting the progress some of the elementary schools are making in using technology in the classroom.
"I'm amazed at where we are," Grow said of the district's progress in using technology such as the internet and software. Looking ahead, though, he added, "Don't be afraid to dream outside of the budget."