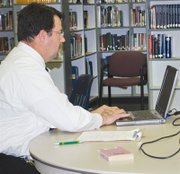 MABTON - The Mabton School Board Monday heard from Principal Jay Tyus how this year's disciplinary numbers fare with years past.
This school year (2009-10) is the second year Mabton High School has been without seventh and eighth grade students. It is also the second school year without in-house detention.
Instead the school is utilizing disciplinary techniques like a refocus form used in "Time to Teach" strategies.
Disciplinary action, said Tyus, takes place for different types of incidents. He provided the school board with bar graphs depicting the number of issues Mabton High School deals with in respect to which incidents required discipline.
This year, as well as last year (2008-09) the school has had the greatest number of incidents in no show after school. This year there have been 18 incidents in that regard and last year there were a total of 24. A "no show after school" incident is when a student does not go to detention when he or she is assigned to do so.
The school, Tyus noted, is two-thirds of the way through the year. As a result, the numbers for the 2009-10 school year only reflect the past six-and-a-half months.
"Violent behavior," he explained, "can include fighting words and language is defined as swear words."
There have been seven incidents of violent behavior and seven incidents of language problems that have required discipline so far.
The second highest number of incidents requiring disciplinary action is disrespect. There were 15 cases documented this school year, up from nine last year.
Last year, there were 21 fighting incidents and that number is down to seven this year.
Before Mabton Middle School was established, there were 130 disrespect incidents, 12 fights and 38 disruptive behavior incidents, as well as 15 no shows after school.
Mabton Middle School Principal Denny Brown addressed that issue, stating the bulk of the discipline issues at Mabton Senior/Junior High were a result of the behavior of the seventh and eighth grade students. As a result of those students being placed in their own school, disciplinary incidents have dropped at the high school.
Tyus agreed, stating the older students have fewer incidents. "The seniors are the students I have the fewest discipline issues with," he shared.
Using refocus forms, too, he said has helped the staff and the school as a whole.
Tyus said the students utilize time in detention for academics. "The students aren't punished, but are given an opportunity to broaden their learning experience," he shared.
He said many of the students take the time to ask questions of their homework, read and study.
With refocus forms, Tyus told the school board, the students are given an opportunity to reflect on their behavior and how they may have better handled a situation. Most times, he shared, students do not require disciplinary action. He said the teacher merely prompts a student, reminding the student to act appropriately.
One classroom, Tyus noted, has had an inordinate number of issues with negative behavior. There have been 508 reported incidents in that class. Three other classrooms have not reported any issues.
When asked why students perceive a discipline issue exists in the school, Tyus said he believes the students may be frustrated with the 10 percent of the population that "gives the school a bad name.
"They may also be tired of the 10 percent of the educators not properly managing their classrooms."
He said he cannot rightly speak for the students, but he was providing the school board with a guess.
Overall, Tyus believes the data is showing some improvement. He and the school board agreed everyone needs to understand the importance of appropriate behavior and the measures to take when students are out of line.