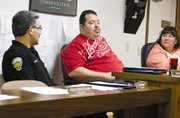 MABTON - The Mabton City Council last night, Tuesday, approved a collective bargaining agreement with the city's public works employees and police officers.
Under terms of the deal, the city will now offer bereavement leave to employees and their spouses or domestic partners.
Another new item in the contracts for 2010 is that employees will work five eight-hour days, instead of four 10-hour days.
In addition, employees will be required to take one-hour lunch breaks instead of the mix of half-hour and one-hour breaks employees previously had.
Mayor Angel Reyna told council the change was put in place so there could be consistency among employees and their lunch breaks.
Also new is full-time employees now have to be laid off for more than 24 months before they lose their seniority. The length of time was 18 months, previously.
Under the agreement, employees, with approval from the mayor, can take their vacation time in one-hour increments.
The contract also calls for the city to indicate vacation and sick-leave accruals on each statement of earnings.
Using a step pay policy, the agreement approved last night includes a monthly pay range of $2,805 to $3,412 for the public works foreman, $2,372 to $2,887 for the public works lead, $2,127 to $2,588 for both the public works entry level position and for the maintenance worker.
A police officer's monthly salary will range from $2,550 to $3,102 and a deputy clerk's pay will range from $2,535 to $3,082.
The bargaining agreement is effective through the end of 2010.