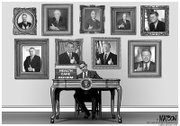 The grains of sand in the Democrats' 'hour-glass of control' might not get flipped come November. Instead, some might find themselves tossed out on the street after last Sunday's historic vote on health care reform.
Some might scoff at calling the vote historic, but believe me, it is. But depending who you are, the vote is historic for different reasons.
For President Obama and the Democrats, they are riding high. After the bill was signed into law, Vice President Biden feted the president. Quoting the Greek poet Virgil, Biden said in front of a crowd at the Department of Interior, "the greatest wealth is health. Mr. President, you've made us a nobler and wealthier nation by providing for the health of your fellow citizens."
Pretty syrupy stuff, huh?
But they're happy and this is the change they promised. Obama and his fellow Democrats have made no bones about this issue. Passing this bill, to them, was the right thing to do.
Sen. Patty Murray (D-WA) released a statement after Sunday's vote lauding the courage of Congress.
"Today's historic vote brings Washington state families and small business owners one step closer to lower premiums, more choices and the health care security and stability they deserve.
"Health insurance reform will put important health care decisions back into the hands of patients and their doctors and will finally force insurance companies to compete for the business of the American people."
These are all good things, aren't they? Increased competition in the insurance industry, lower premiums, more choices and health care security sounds alright.
But not everyone is buying that line, at least certainly not the Republicans. Every single one of them in Congress voted against the bill. And most of them are down-right livid it got passed.
Congressman Doc Hastings (R-WA) charged that the Democrats skirted the lawmaking process and pushed through a government takeover of health care using a closed approach that blocked consideration of any Republican amendments to the bill.
"Improvements must be made to our health care system, but I reject the premise of this bill that government knows best how to run our health care," Hastings said in a statement released Sunday night. "While it was impossible to stop the liberal majority from pushing through their government takeover of health care, House Republicans will lead the effort to repeal this legislation in 2011."
That's a hint there, folks. Republicans are expecting to gain a lot of seats in both houses come November.
In his statement, Hastings chided the Democrats for using backroom deals and political payoffs to pass a massive health care bill that he claims most Americans don't want.
Hastings said the bill will cause more spending, higher taxes and give the government more control while not doing a thing to lower health care costs.
"In the past 14 months Democrats have given the federal government control of our banks, our car companies, our loans for college and now our health care," he said.
Pro-life groups are upset with the bill because they say taxpayers will be forced to fund abortions. Americans United for Life Action President and CEO Dr. Charmaine Yoest called the vote an act of establishing taxpayer funded abortion.
"This reversal of long standing federal policy will not stand," she said last Sunday. "Furthermore, the assurance by the White House to address the problem of abortion funding in the health care bill through use of an executive order is an open acknowledgment that the bill just passed is pro-abortion legislation."
Oddly enough, even pro-choice groups are unhappy with the bill. NARAL Pro-Choice America President Nancy Keenan is upset the bill doesn't cover abortions and notes that more than 85 percent of private insurance companies do.
Keenan stopped short of calling for the bill's defeat but refused to endorse it.
Obama has signed the legislation and has publicly called it the law of the land. He has called claims by Republicans that the bill will make things worse lies and cynicism.
Obama claims that what works in our health care system won't change. People that are happy with their health care coverage won't see a change in that. He then listed some things that will change.
Obama said $4 million will be given to small businesses to help them cover the cost of offering coverage. The money will come in tax breaks.
He said the bill will allow Americans with pre-existing conditions to get health care coverage. This would include children with pre-existing conditions.
Insurance companies will no longer be able to drop people's coverage when they get sick or place lifetime limits or restrictive limits on the amount of care they can receive. All new insurance plans will be required to offer free preventive care and young adults will be able to stay on their parents' health plan until they are 26.
Obama said these reforms will begin immediately.
Other plans in the health care bill, according to Obama, will be implemented over the next several years. The length of time is an acknowledgment of how difficult and complex this will be.
So will the new legislation be a good thing or a bad thing? I think that's up in the air right now. Only time will tell.
But what is probably certain is that Democrats have taken a huge hit with this. Whether it is good for people or not doesn't make up for the fact that most people didn't want it. And because of that, 2011 might just be the Year of the Elephant.