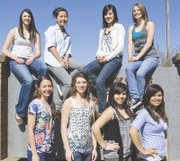 Five young ladies from Sunnyside High School were recently selected to attend the Evergreen Girls State convention at Central Washington University this coming June.
Christine Kim, Blanca Mejia, Ayla Schmick and Jill Spini are all attending with sponsorship by Sunnyside's American Legion Auxiliary Unit 73. Moxee's American Legion Auxiliary Unit 162 is sponsoring Jessie Robert.
Four young ladies from Sunnyside High School were also selected as alternates, including Joyanna Bardell, Melissa Chapina, Claudia Gonzalez and Mayra Guizar.
The program will take place June 13-19 and delegates will focus on city, county and state government issues.
During the week, the delegates will have the opportunity to participate in the legislative, executive or judicial branch of government. They will learn how bills are written and they will participate in the process of enacting laws. There are a number of other interactive activities the youngsters will participate in, as well.
A variety of speakers representing various occupations will give presentations at the event, and Girls State delegates will have the opportunity to meet other ambitious young ladies representing schools from across the state.
"It is the hope of the American Legion Auxiliary that this week will not only teach young women about the value of involvement in government and the responsibilities of citizenship, but will also open many future doors for those who attend," said Evergreen State spokesperson Gail Boose.
She said four college credits can be obtained by each of the delegates through the University of Colorado at Colorado Springs.
Sunnyside High School counselor Sara Vega-Evans was thrilled at the number of young ladies attending Girls State this year. "It is a large group compared to years past," she acknowledged.
She said all junior counselors have an opportunity to work with teachers during the selection process, and she considers it a privilege to be a part of that process.