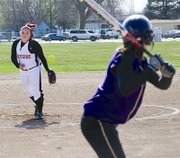 It was an interesting evening for the Sunnyside softball team, as the team learned to pull together after losing 10-2 in last night's opening game against the Hanford Falcons.
Sunnyside Coach Ralph Mendoza said his team had a difficult opener because of struggles in tagging runners out.
The Lady Grizzlies had five hits, resulting in two runs in the fifth inning. They committed six errors.
Hanford's offense gained three runs in the third, fourth and sixth innings. An additional runner scored in the fifth inning.
The Falcons didn't tally any errors in the opener.
Sunnyside shook off the dust and made a recovery to win the second game, 10-9.
"It was a really good game," said Mendoza, sharing his team was aggressive on the base path, picked up the runs, stole bases when opportunities arose and picked up the signs necessary to do what it took to score a runner.
Lady Grizzlies Sarasa Partida, Stephanie Sanchez, Jazmin Penalosa, Mercedes Cantu, Taylor Mortensen and Savanna Martinez all were 1-for-3 at bat. Melissa Amaro went 1-for-4.
Sunnyside next takes on Kennewick at home this coming Friday.