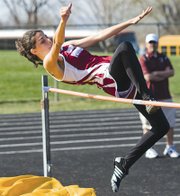 GRANDVIEW - 2B Riverside Christian fended off a strong challenge from 2A Prosser to walk away with the boys team title at yesterday's Grandview High School Track & Field Invitational. The Crusaders edged the Mustangs by a team total of 150 points to 142.3.
In the girls team scoring, the East Valley Red Devils tallied a meet best 80 points to clip co-runners-up Ki-Be and Prosser by less than four points for top honors.
The host Greyhounds were 14th in the team scoring in the girls events, and finished in 13th place in the boys competitions. The nearby 1A Mabton Vikings placed 13th from among the 15 girls teams, and the Vikes managed a 14th place finish on the boys side.
None of the Grandview or Mabton athletes were able to secure victories in any of the events.
The top finisher for Grandview Tuesday afternoon proved to be junior Adriana Ramos. Competing in the girls high jump, she set the second highest leap on the day when she cleared the bar at 4 feet, 6 inches. She was one of five girls to jump a height of 4-6. The winner, Columbia-Burbank's Guajardo, went two inches higher with a leap of 4-8.
Mabton's top performers turned out to be Cassandra Madrigal and Noe Gutierrez.
Madrigal earned a second place finish for the Lady Vikings in the girls triple jump with a leap of 30 feet, 9 and a quarter inches. Wilson of Prosser bested Madrigal for top honors by a mere half-inch.
Madrigal also took home a third-place finish for Mabton in the girls long jump with a leap of 14-5.5. Prosser's Wilson and Vogt of Trout Lake went one-two in that event with jumps of 15-3 and 15-1, respectively.
Gutierrez secured a third-place finish for Mabton in the boys triple jump. His leap totaled 38 feet, 1 inch. Riverside Christian's Gartrell and Van Tuinen placed one-two, respectively, for the Crusaders with marks of 42-11.5 and 41-11.75.
BOYS
4x100 meter relay: 1st-Riverside Christian 44.8, 2nd-Prosser 45.2
110-meter hurdles: 1st-Shearer (Zillah) 16.74, 2nd-Hector (Prosser) 16.77
100 meters: 1st-Pilot (Prosser) 11.36, 2nd-Gartrell (Riverside Christian) 11.68
1,500 meters: 1st-Barnes (Zillah) 4:25.8, 2nd-Lott (Col.-Burbank) 4:29.5, 6th-Sanchez (Grandview) 4:34.02
300-meter hurdles: 1st-Argo (Zillah) 44.78, 2nd-Troianello (LaSalle) 45.96, 4th-Kollmar (Grandview) 46.74
Sprint medley: 1st-Riverside Christian 1:40.12, 2nd-Zillah 1:41.27, 3rd-Grandview (Munoz, Sanchez, Razo, Kollmar) 1:44.92
1,800 meters: 1st-Ekstrand (Zillah) 2:06.75, 2nd-Estrada (Othello) 2:07.22, 6th-Sanchez (Grandview) 2:18.5
Throwers relay: 1st-Walla Walla 51.4, 2nd-Zillah 51.74, 5th-Grandview 54.24
3,200 meters: 1st-Gilmore (Walla Walla) 9:50.15, 2nd-Bender (Riverside Christian) 9:55.62, 4th-Reyna (Mabton) 9:59.44
4x400 relay: 1st-Riverside Christian 3:39.18, 2nd-Prosser 3:42.68, 4th-Grandview 3:48.86
Long jump: 1st-Byrne (Riverside Christian) 21-1, 2nd-Gartrell (Riverside Christian) 19-7.75
Javelin: 1st-Byrne (Riverside Christian) 171-1, 2nd-Bettencourt (Riverview) 163-5
Discus: 1st-Ross (Goldendale) 114-0, 2nd-Brown (Prosser) 111-11
High jump: 1st-Lott (Col.-Burbank) 5-10, 2nd-Hanson (Walla Walla) 5-8
Shot put: 1st-Pearson (Prosser) 42-3, 2nd-Lloyd (Ki-Be) 40-10.5
Triple jump: 1st-Gartrell (Riverside Christian) 42-11.5, 2nd-VanTuinen (Riverside Christian) 41-11.75, 3rd-Gutierrez (Mabton) 38-1, 4th-Garza (Grandview) 37-9
GIRLS
4x100-meter relay: 1st-Prosser 53.14, 2nd-Ki-Be 54.46, 5th-Grandview (Ampil, Atkinson, Soto, Navarro) 56.37
100-meter hurdles: 1st-Roosma (Walla Walla) 18.61, 2nd-Washburn (East Valley) 18.74
100 meters: 1st-Rees (Prosser) 13.46, 2nd-Vogt (Trout Lake) 13.67
1,500 meters: 1st-Mohsenian (East Valley) 5:15.94, 2nd-Radach (East Valley) 5:30.31
300-meter hurdles: 1st-Roosma (Walla Walla) 51.11, 2nd-Harms (Ki-Be) 51.81
Sprint medley: 1st-Prosser 2:02.24, 2nd-Walla Walla 2:08.11
800 meters: 1st-Lilly (Ki-Be) 2:36.15, 2nd-Depaz (East Valley) 2:46.84, 4th-Gutierrez (Mabton) 2:50.62
Throwers relay: 1st-LaSalle 61.2, 2nd-Riverside Christian 63.05
3,000 meters: 1st-Radach (East Valley) 12:03.28, 2nd-Tuning (Zillah) 12:36.22, 6th-Eucker (Grandview) 13:15.81
4x400-meter relay: 1st-Prosser 4:25.24, 2nd-Ki-Be 4:31.37
Long jump: 1st-Wilson (Prosser) 15-3, 2nd-Vogt (Trout Lake) 15-1, 3rd-Madrigal (Mabton) 14-5.5, 6th-Gutierrez (Mabton) 13-6.5
Triple jump: 1st-Wilson (Prosser) 30-9.75, 2nd-Madrigal (Mabton) 30-9.25
Discus: 1st-Default (LaSalle) 86-4.5, 2nd-Helvie-Juarez (LaSalle) 85-5
Javelin: 1st-Dufault (LaSalle) 90-0, 2nd-Watts (Ki-Be) 89-11, 4th-Valencia (Grandview) 83-9
Shot put: 1st-Martinez (East Valley) 36-1.75, 2nd-Shattuck (Goldendale) 35-7.5, 6th-Valencia (Grandview) 28-3
Triple jump: 1st-Guajardo (Col-Burbank) 4-8, 2nd-Ramos (Grandview) 4-6