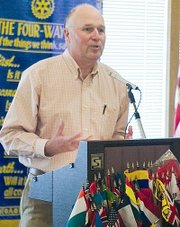 Members of the Sunnyside School Board lunched with the Sunnyside Noon Rotary Club this past Monday, where the president and vice president of the board detailed plans for the vision of the school district.
Sunnyside School Board Vice President Steve Carpenter told the Rotarians that the district's mission is to ensure success for all students through effective leadership, quality teaching and learning, continuous improvement and clear and collaborative relationships.
Carpenter told the Rotary club that Sunnyside has approximately 6,000 students, with 85 percent of them Hispanic, 11 percent white and 3 percent other.
"Half of the students come from monolingual families," he said.
The school board believes all students are capable of learning and believes it is the responsibility of the parents, staff and citizens of Sunnyside to ensure the development of the city's youth.
The board's goals is to get 100 percent of the students to achieve grade level and equivalent standards in order to meet graduation requirements.
"If you look at our test scores we are not quite there yet, but we believe we can get there," he said.
Other goals include ensuring and developing a comprehensive leadership plan for principals and program support administrators. Another goal is to ensure Sunnyside's schools and buildings are safe and orderly. Fiscal management is also important to the board.
To judge how the district is doing, Carpenter said the board has strict evaluations on its superintendent.
To help bring about this change the school district applied for, and received, a Summit grant.
Sunnyside School Board President Miguel Puente told the Rotarians the reason Sunnyside was selected for the grant was because the district's greatest need is student achievement.
He said district goals by 2012 is to have 90 percent of Sunnyside students meeting standards in reading and writing and 85 percent of students meeting standards in math. The board wants 100 percent of its district students to graduate and be ready for college or a career.
The Sunnyside School Board will present its plan at a school board convention next month.