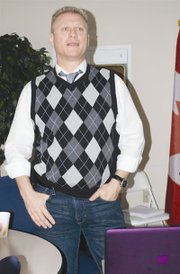 Sunnyside's Daybreak Rotary Club this morning (Wednesday) heard about the efforts of Sunnyside's Promise from the organization's director, Mark Baysinger.
He provided an overview of the past decade, stating Sunnyside's Promise was formed in 1999.
"Sunnyside's Promise was formed out of a drug and alcohol rally," shared Baysinger.
Parents, law enforcement, intervention specialists, school district employees and other community members worked together to form the organization as part of America's Promise.
A coalition was developed with five promises in mind. The promises included involving caring adults in helping the youth in Sunnyside. Other promises developed with youth in mind include providing safe places, providing a healthy start to a future, developing marketable skills and providing youngsters with opportunities to serve the community.
Since 2000 Sunnyside's Promise has had several community service projects, feeling a need to reach out to the community and form collaborations with other organizations, according to Baysinger.
He shared the approach of the gang reduction initiative and its successes with Rotarians, stating some programs have been successful and others were unable to get off the ground.
Last year the gang reduction initiative birthed ideas such as the Lucky 7 Bike Shop and the soccer field project near Sunnyside's Law and Justice Center.
Seed funding was granted to Sunnyside's Promise as a result of an ad hoc committee that was formed. The committee was formed to pursue partnerships in the community.
A new direction for Sunnyside's Promise was also developed. To reduce gangs and gang activity the gang reduction initiative decided on four areas of concern. The most effective area is, according to Baysinger, providing pro-social activities for youth. Other areas of focus are prevention, intervention and suppression.
To meet the goals of his organization, he said he obtained data from the healthy youth survey and Sunnyside School District to direct attention toward helping Sunnyside's youth. That data revealed middle school students have the most gang-related referrals in the schools.
Other research revealed statistics showing teen pregnancy has a direct correlation with gang affiliation.
Sunnyside is a target area for gang activity, according to testimony provided in the research, because of its location in relation to SR-241 and I-82. The two arterial roadways are stated to provide easy transport of drugs throughout the region.
Sunnyside's Promise has partnered with the city of Sunnyside, Sunnyside Police Department, ESD 105, the Northwest Community Action Center and other agencies to address issues involving the city's youth.
Two case managers were hired to help with the middle school students. Those students receiving referrals due to gang activity meet with the case workers and develop plans involving parents after being assessed by a case worker.
The plans are developed to help students at-risk of being involved in gangs to achieve academic goals.
"Some parents have no clue what's going on with their kids...they think their kids are just dabbling," shared Baysinger, stating parent involvement is important in helping youngsters achieve success in school and keeping those youngsters from getting involved in gangs.
There are other goals Sunnyside's Promise has set, including involving former gang members in giving parent presentations and furthering the success of the Lucky 7 Bike Shop.
The organization will be opening the Sunnyside Community Center through spring break and is looking for funding to hire an individual to operate the center on a more permanent basis.
"We would like to see a boys and girls club develop...we need volunteers," Baysinger shared.