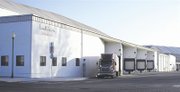 PROSSER - About 250 employees at the ConAgra Foods Lamb Weston plant in Prosser were told by management yesterday (Wednesday) that the frozen potato processing plant will stop production on May 30 of this year.
"Basically it's the economic conditions," said Jeff Mochal, spokesman for ConAgra Foods. "We deal with frozen potato products and right now the market is soft for frozen potatoes. There are not as many people eating out as much."
The plant employs 250 people, including 30 employees who work in a frozen warehouse on site. Mochal said the frozen warehouse will still operate in some capacity and some of the 30 employees who work in the warehouse will be retained. He didn't know how many or who.
Mochal said the move is a big lay-off situation but stopped short of saying the plant is closing.
"We're stopping production but there are no plans to sell the property," he said.
Mochal also admitted the company has no plans to fire the plant back up again anytime soon, but he didn't rule that out if the economy turns around.
"If the demand for potato products increases then it is not out of the question to see the plant back in operation in nine months," he said.
Mochal said there are five other plants owned by ConAgra in the area. They are in Pasco, Richland, Hermiston, Boardman and Paterson. In the next couple of months, Mochal said, the facilities will be assessed to find out if there are any positions that need to be filled.
Mochal does anticipate some of the 250 Prosser employees facing lay-offs to be placed in other facilities.
"If we can relocate the Prosser employees to another plant, we'll do that," Mochal said.