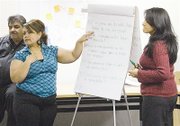 "Nothing is being hidden from our parents," Dorena Ah Quin, a parent representative, said last night in an open meeting for parents, "We just have to ask."
And ask they did. Wednesday night's meeting saw Sunnyside Chief of Police Ed Radder and Superintendent of the Sunnyside School District Dr. Richard Cole answer questions and address the concerns plaguing local parents.
Officiated by Ezequiel Olmedo, last night's bilingual meeting tackled several of the big concerns facing parents in Sunnyside.
From gang activity to school emergency procedures, no questions were barred. Parents were given 10 minutes to present their thoughts. Later, five major topics were selected to be addressed by Chief Radder and Dr. Cole, though many concerns were addressed by their answers.
The first major concerns covered were issues over school safety and emergency procedures.
Dr. Cole assured the parents that each school has a specific security and safety plan in place, and emergency procedures are practiced by the Sunnyside Police Department as well as school officials. Each building has what they call a "red book" and that parents are welcome to visit their schools and ask to see it.
Issues over the free lunch period at the high school were also discussed. Dr. Cole reminded parents of the trouble that comes with closing campus during lunches.
"Parents love it," he said, "kids hate it and businesses need to prepare for it." Nevertheless, he assured parents that there were plans to close campus, but time and preparation will be needed.
Despite all this, the hot topic for the night was the decision by the Sunnyside Police Department to remove Officer Severiano "Chico" Rodriquez from his position as a resource officer at Harrison Middle School to work in conjunction with the Sunnyside Housing Authority.
It was clear by the way the parents argued for Officer Rodriquez's return to Harrison Middle School that he is a devoted and important part of the community. Chief Radder confirmed this and informed the parents that in Officer Rodriquez's new position he will continue to be a positive influence in their children's lives.
While Chief Radder and Dr. Cole's assurances did not appear to quay all the parents' concerns, Olmedo encouraged the new resource officers to seek out Officer Rodriquez for practical advice and to reach out to parents. It is important to let the community know who they are and to encourage trust, said Olmedo.
But the main message delivered to the parents by Chief Radder, Dr. Cole, various school representatives and even Dorena Ah Quin was clear: parent involvement is crucial. Parents can take an active role in keeping their community safe by asking questions, keeping their eyes open, and becoming involved. Seek out these open forum meetings, but attend those offered in the school. Meet with school staff and be a responsible member of the community.
The next meeting is scheduled for Wednesday, April 7, at 6:30 p.m. in the Denny Blaine building on Custer Avenue.
It will be a bilingual, open forum for any parent with a concern or question.
Bring a friend, advised meeting organizers.