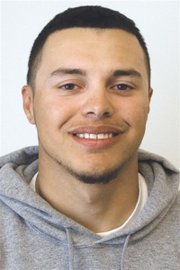 Former Sunnyside High School baseball standout Gibby Briones is making moves this year and has his eyes focused on turning pro this summer.
The shortstop is currently playing for YVCC in Yakima and has been tearing it up this season. In just 13 games so far YVCC is 10-3 and Briones is batting .428 and leads the team in doubles and triples.
The previous year Briones hit .335 for the season and was named to NWAACC all-star game. There he hit 3-for-4 with a double.
"There were a lot of scouts at the all-star game," Briones said.
Briones currently has several colleges and two pro-teams that are interested in him.
Briones said he attended a summer camp hosted by the Yakima Bears, who are owned by the Arizona Diamondbacks. At the one-day camp Briones said there were several assistant coaches from the Diamondback organization.
"They said I had all of the five tools," Briones said.
The five tools are hitting, power, speed, arm strength and fielding. Briones said the coaches surprised him by naming Briones the only player they were interested in out of the players attending the camp.
"That was the greatest feeling," Briones said. "The first thing I did was call my dad."
Last summer, when Briones was playing summer ball with the Yakima Beetles, he said a scout from the Washington Nationals expressed interest in him to one of Briones' coaches.
"I'm hoping to get drafted this summer," Briones said. "I know I can compete."
Sunnyside High School baseball Coach Terry Shines agrees.
"If he does the little things, like going to junior college and getting a lot of exposure on the wooden bat, he's a five-tool player," Shines said. "That's what it takes. If he does the right things he can play at the next level."
Briones pitched for Shines and the Grizzlies and also played shortstop.
"He's a good kid," Shines added.
Although Briones is hoping to be drafted this summer by a major league baseball team he has other plans if that doesn't pan out. Already several colleges, from the east coast to Hawaii, have expressed an interest in him. What has surprised Briones the most is the season just started. He expected colleges to be interested in him after the season ends, but not at the beginning.
He has verbally committed to playing at the University of Campbellsville, a NAIA D1 school in Kentucky. Briones said the team was ranked No. 8 in the nation last year. He is being offered 85 percent of his tuition costs.
That's what it really boils down to if Briones doesn't get drafted, money. He wouldn't mind attending the University of Hilo but will pick Kentucky over Hawaii any day if the scholarship is better.
What makes Briones such a good player? It's all hand-eye coordination and timing, he said.
"I'm all about the line drives," he said.
Briones gives credit for his success to his coaches, all of them. From his little league coaches to his high school coaches and of course his college coaches.
He also gives credit to his family.
"I would not be playing baseball without my family," he said. "They have given me so much support, it means so much."
Briones singled out his father, who he said spent hours in the back yard with the youngster playing catch.
"That meant the world to me now that I look back on it," he said.
Briones promises he will take this summer off to spend time with his family before he goes wherever his talent is going to take him. He will either be playing for a pro-team's farm club, or Briones will be starting college, most likely Kentucky, in the fall.