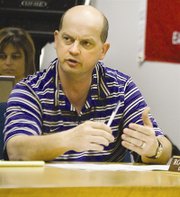 The Sunnyside School Board last night, Thursday, gave conditional approval for the district's three-year technology plan.
The plan calls for a five-year replacement period in which all computers in the district will be gradually replaced.
In all, 1,704 computers will be replaced over five years, averaging 340 computers phased out each year. Total cost is set at $408,000 for each year.
In addition, the district plans to replace all 342 LCD projector/document camera combos over a period of five years. That cost is $82,080 annually.
The plan also noted that Sunnyside schools average about one educational computer for each 5.6 students. The state average is closer to four students per computer.
The plan also aims to improve on integrating technology in the classroom.
Another area of planned growth is increasing the number of eighth graders who are fully proficient with technology, able to use it to provide a presentation in the classroom. Currently 92 percent have some level of proficiency, while only 8 percent are fully proficient.
Progress will also be sought in improving profiency in technology among staff. For example, only 17 percent of teachers in the district are described as being fully proficient, while only 33 percent of media center specialists are fully proficient.
The district's records show that 65 percent of all administrators are fully proficient in technology.
While giving approval for the plan, Superintendent Dr. Rick Cole asked the bard to give it conditional approval pending the budget.
Cole explained that the technology plan is $300,000 more than budgeted and that the district doesn't yet know what legislators will do with school funding since they are still in special session.
At the same time, the district had to approve a plan because it is due to the state on April 5.