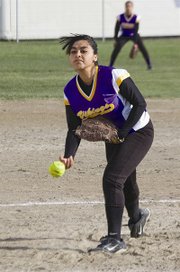 MABTON - It was a tale of two different games yesterday, as the Mabton Lady Viking softball team lost the first game of a doubleheader with Columbia-Burbank 14-0 before battling in a 10-5 loss in the nightcap.
Mabton struggled at the plate in game one on Thursday, but Viking pitcher Mela Alcala kept the Coyotes close, holding them to four runs through the first three innings.
That all changed in the fourth and fifth innings, as Columbia-Burbank scored five runs in each inning to secure the victory early because of the five-inning mercy rule.
Mabton had just four hits in the first game, provided by Jazzee Sustaita, Isabella Ahumada, Marlen Chavez and Carisma Diaz.
"We had four errors and they capitalized on all of them," Mabton Coach Jesus Sustaita said of Mabton's game one loss to Columbia-Burbank.
Jazzee Sustaita took the mound in game two for Mabton and, after surrendering a six-run first inning to the Coyotes, settled down to blank them in the second through the sixth innings.
Trailing 6-2, Mabton made it a game in the fifth inning when it broke through for three runs to narrow the deficit to just one run, trailing just 6-5.
Coach Jesus Sustaita said all three runs scored when Sonia Alvarez delivered a base hit with two runners on. Throwing errors by the Coyotes allowed both runners to score, as well as Alvarez, who scampered home.
The Coyotes broke the game open in the top of the seventh with four runs.
Despite the pair of losses in non-league play, Sustaita was pleased with the way his team's bats woke up in game two, delivering eight hits.
"Our bats came alive, we hit the ball better," he said.
Ahumada was 2-for-4 at the plate in game two to lead Mabton batters.
"We executed, made better contact," the coach said. "We just took advantage of some of their errors."
Mabton returns to action on Thursday, April 8, when it hosts LaSalle.