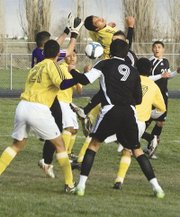 MABTON - "It was déjà vu as Royal slipped by Mabton in overtime," Vikings Assistant Coach Mike Davis said of last night's home match against the Knights.
Mabton penetrated the Royal defense and got the ball to Tony Espinoza to open the match. He took the pitch at the center of the goal box and snapped the ball past Knights keeper Jesus Ceja 45 seconds after the initial kickoff.
Royal rallied and went on the attack. The Knights pushed the ball back through the Viking defense. They dished a long pass and equalized the match 1-1 nine seconds after the initial Mabton goal.
Davis said the match was a back and forth battle and the two teams were unable to score after that. The defensive pressure on both sides was strong and the attackers battled to get within range of the crossbars.
The score was still 1-1 at the final whistle of regulation time, although the Knights made six more attempts at getting the ball past Viking keeper Gerardo Barajas. Mabton, too attempted to score before the end of regulation. Ceja made five saves from the Royal defensive end.
The Knights opened overtime in control of the ball. Mabton's defense wasn't able to stop the offense, as Royal slipped the ball through at the 4-minute mark.
"The ball rolled by Barajas for the Knight win 2-1," shared Davis.
He said, "The Vikings are continuing to develop as a team, with freshmen and sophomores and a few seniors."
Mabton takes to the field again tomorrow (Saturday) in a non-league match at Warden.