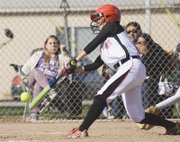 The Lady Grizzlies weren't able to match the Kennewick Lions hitters last Friday, as the home team dropped the doubleheader 9-2, 8-4.
Sunnyside Coach Ralph Mendoza said the Lions did a good job reading his runners, keeping the Lady Grizzlies from stealing bases.
"There were some tough calls, including a high tag in the opener," he shared.
In that game, Sunnyside's offense connected with the ball four times for hits and scored a run in the third and fifth innings, but the team was unable to generate any other runs. The team had two errors, whereas Kennewick committed no errors and was able to collect 13 hits off pitcher Maleesha Maltos.
Kennewick scored four runs in the opening inning of the first game, had one run in the second and fifth innings and closed the game with three runs in the seventh inning.
"Kennewick was smacking the ball left and right in the first inning," shared Mendoza.
The Lady Grizzlies attempted a rally in the nightcap, scoring two runs in the first inning. Kennewick answered with two runs in the same inning.
"In the second game we had opportunities to score, but we didn't come up with any clutch hits," said Mendoza, stating the Lions were smashing balls that would make it past a fence line if there was one.
"We have to make plays on defense and we have to be solid on the offense," he continued.
On the upside, Ruby Herrera of Sunnyside was 2-for-3 at bat with a double and an RBI in the opener. Savanna Martinez was also 2-for-3 in that game.
Lady Grizzly Jazmin Penalosa went 3-for-3 at bat in the nightcap, and teammate Sarasa Partida was 2-for-3. Her hits were a double and a triple.
Teammates Zenaida Perales and Mercedes Cantu each were 1-for-3 batting.
Sunnyside (1-3) next travels to West Valley for a doubleheader on Tuesday, April 6.