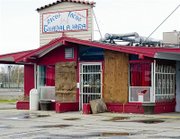 Last Friday at approximately 10:45 p.m. Sunnyside police rushed to the scene of a reported shooting at 809 Yakima Valley Highway, also known as the site of Rico's Tacos.
Officers arrived at the site to find three victims had been struck by gunfire, one of them, a male, was deceased on arrival.
A female victim was found shot multiple times and was transported to Harborview Medical Center in Seattle.
Another adult male was treated for gunshot wounds at Sunnyside Community Hospital and released.
An autopsy of the deceased victim is scheduled for today (Monday) and additional victim information has not yet been released by authorities.
The Sunnyside Police Department is being assisted by the Washington State Patrol Crime Lab Response Team and detectives from the Washington State Patrol in investigating the incident.
It is believed multiple suspects were involved, but information regarding the suspects is being held from the public.
A suspect vehicle described as a white Chevrolet Malibu, said Sunnyside police, was recovered north of Sunnyside Saturday. It is believed it was in the process of being destroyed as it was found burning.
Anyone with information involving this case is asked to call the Sunnyside Police Department at 509-836-6200.