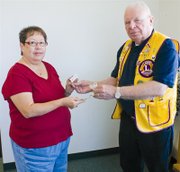 The Sunnyside Lions Club will conduct its annual White Cane Days fundraiser this coming Friday and Saturday, April 2-3.
The local chairman of the Lions Club fundraiser, Lynn McBride, said club members will be positioned outside the downtown Sunnyside Safeway store those two days collecting donations from local shoppers, from about 9 a.m. to 5 p.m. each of the two days.
Donations to the local Lions Club during White Cane Days are forwarded to the Lions Eye Bank, which is established to help pay for cornea transplants and other programs to assist the visually impaired.