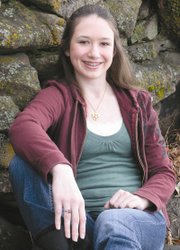 Jessica Cummings is a senior at Bickleton High School but she has caught the attention of some Ivy League schools.
Based on her excellent pre-SAT scores, Cummings received invitations from Harvard and Cornell to apply for admission. Last fall she took them up on those offers and applied to both.
On Jan. 29, 2010, Cummings interviewed with a Harvard representative in the Tri-Cities, but she has already been informed of her acceptance to Cornell University in Ithaca, New York via their diversity program.
"This is an American dream story," Mrs. Navarre, Cummings' English teacher, explains, "And it goes to show that, even in a small rural school such as Bickleton, nothing need stand in your way to excellence."
Something might stand in Cornell's way as they attempt to claim Cummings as their own. Although Harvard and Cornell are very appealing, Cummings is seriously considering attending Washington State University where she hopes to do her undergraduate work in their pre-veterinarian program.
Even with Cummings' eyes on WSU, Ivy League could still be in her future. Cornell offers a veterinary graduate study program that Cummings will consider applying for after her term at WSU.
"I'm excited about it," Cummings said, "because, to me, it is showing that the next time I apply I could probably get in and that these Ivy League schools that seem so far out of reach are actually approachable. They don't want finances to be a barrier. So, it never hurts to apply and you might be surprised at the response."
Jessica Cummings is a 4.0 GPA Bickleton High School senior whose stellar pre-SAT scores has attracted the attention of Cornell and Harvard University.