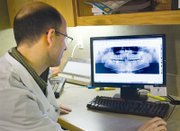 Pioneering advances in technology now make digital x-rays a service that is efficient and conducive at Sunnyside's Pioneer Dental Center.
The dental office recently acquired digital x-ray capabilities, and Dr. Kyle Sullivan said he is pleased with the results.
"A dentist can now look at an x-ray and adjust the brightness and contrast to diagnose a problem that may not have been detected before," he shared, stating there are other benefits to the new technology, as well.
He said the new technology requires approximately 25 percent of the radiation traditional film-based x-rays did, decreasing the radiation exposure to the patient.
The speed at which a dentist is able to view a patient's x-ray, too, has advanced.
Sullivan said film x-rays used at the office before took approximately five minutes to develop. Digital x-rays are immediately sent to a computer screen and can be examined within seconds.
"Digital x-rays are beneficial to the dentist, the patient and the environment...no chemicals are required to process the film," shared the doctor.
Digital technology, he said, is preferable to the old technology because a dentist can now pull up an x-ray with the click of a button. "With the old method a patient may have had 10 years worth of films in a file...imagine trying to find the desired film."
Electronic transfers are another benefit of digital x-rays. Sullivan said an x-ray can be sent to a specialist or other dental facilities. If dental records are required for any purpose, including identification at the coroner's office, they can be electronically sent in a matter of seconds rather than via courier or other tactile methods.
"It's better for tracking a patient's history and comparing notes," Sullivan added.
He said the process of taking the x-ray is similar to the old process. The patient still must endure having the dental barriers placed inside the mouth, but the image is sent to a computer rather than an image processor.
"We can look at the image almost immediately," shared Sullivan, explaining the dental visit is shortened because of the speed provided through digital x-rays.