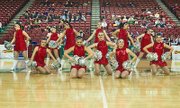 YAKIMA - The Sunnyside High School Grizzliettes, the school's top-notch dance team, took fifth place honors in the hip hop category at the State competition this past Saturday. The team also placed seventh in the pom category.
Although the Grizzliettes didn't receive a trophy for their efforts, Coach Melodie Griffin said she was happy with her team's effort.
"We did as well as we could have asked for," she said. "We didn't trophy but we finished in the top five in the state. That's quite an honor."
The Grizzliettes competed in regional competitions this season at Hanford, West Valley, Sunnyside and Kamiakin. At the District competition Sunnyside scored high enough to make it to State in the hip hop and pom categories.
"At Districts we scored high enough to qualify for State but it wasn't one of our best performances," Griffin said.
Sunnyside entered the State competition ranked 11th out of 13 teams for hip hop. The Grizzliettes were ranked seventh out of 11 teams in pom.
The five-day a week, 5:30 a.m. practices paid off as the dance team improved six spots at State to take fifth with 413 points, an exceptional rating.
Shorecrest won the State competition with a score of 470. West Valley (Spokane), Tumwater and Lakes took the second, third and fourth place spots.
In the pom competition Sunnyside didn't improve from their current ranking but didn't move down any notches either, placing seventh.
"My team danced their heart out," Griffin said. "They left it all out there on the floor."
In the drill competition, Grizzliette Kelley Bridges made it to the final six before being eliminated. A total of 160 participants competed in the drill competition.
The Grizzliettes will take a break until April when try-outs for next season begin. After the team is formed, Griffin said they will start summer conditioning after school lets out and she plans on having team members attending at least one summer camp.
After that, it will be 5:30 a.m., five days a week, to get ready for the next season.
"The cycle starts all over again," Griffin said.