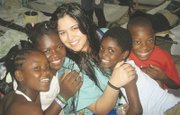 When a nation quakes and crumbles, and lives are lost and changed forever, people respond in varying ways. Most people acknowledge how sad it all is, while many of them open their wallets and some organize events to help provide further financial and material aid to those in need.
But then there are those select few who do so much more.
Following the January 7.0 earthquake that struck and devastated Haiti, former Lower Valley resident Halley Rodriguez wanted to get involved. As a surgical technician, she knew she could be of help.
After a month and a half of talking about leaving for Haiti to give hands-on help, Rodriguez decided talk would not be enough.
She contacted a group called CRUDEM (Center for the Rural Development of Milot) when she discovered they were in dire need of surgical technicians. Though CRUDEM was searching for people with orthopedic experience (an area in which Rodriguez had limited exposure), they gladly accepted her offer to volunteer.
Though CRUDEM would provide food and shelter, Rodriguez had to pay for the $1,350 plane ticket into Cap-Haitian, Haiti. Several donations from businesses, including Sunnyside's Homestretch Espresso and Big 5 Sporting Goods, meant Rodriguez did not have to bare this load on her own.
From rubble in the streets to the displaced and homeless Haitians, evidence of the destruction of last January's earthquake was all around when Rodriguez arrived in Haiti.
Once in Milot, housing was provided to Rodriguez. Most rooms had 10-12 cots with mosquito nets. Notes with a volunteers' name and date of service were taped up and Rodriguez just had to find a cot with a date that had passed and she knew it was free for the taking.
As a surgical technician and medical student, Rodriguez learned a great deal during her time in Haiti. From broken bones to amputations, Rodriguez experienced a wide array of surgical procedures she had little or no experience with.
One such procedure proved to be a highlight of Rodriguez's experience.
During her arrival at Sacred Heart, Rodriguez met a woman she would come to call Tia. During the hectic shift change, Tia had been left in limbo when Rodriguez came across her and through disjointed Spanish and French, she was able to learn that Tia was in a great deal of pain.
There was not much Rodriguez could do at first, but she helped clean Tia up and began to develop a bond with the woman she discovered had a spinal cord injury and only her husband to rely on for support.
Though the story was heartbreaking, Rodriguez was able to participate in what would become a life changing surgery for Tia and an experience Rodriguez would never forget.
Tia became only the second person in Haiti to have a successful spinal fusion procedure, the process of using rods and screws to repair damage to the spinal cord. Though Tia will most likely be paralyzed for life, she is finally ready to heal.
Rodriguez was given the opportunity to visit the hospital in Pignon, Haiti. Like Sacred Heart, Pignon received earthquake victims from Port-au-Prince though far fewer patients were able to reach Pignon because of poor road conditions.
The team Rodriguez traveled with was responsible for reviewing Pignon's needs. She found they were extraordinarily well organized but in real need of supplies.
Rodriguez had to learn fast that there were no specific roles she had to abide by. When a job needed to be done, it needed to be done and it did not matter who did it. She cleaned up where she could and helped distribute medications in addition to her surgical duties.
But no job proved more important, or more life changing, than Rodriguez's work with the children at Sacred Heart.
"They embrace you immediately," Rodriguez said with an awed tone, telling a story of how a child would teach her Creole (a primary language in Haiti, along with French), while one would braid her hair, and another would paint her fingernails.
Her last day in Milot was perhaps the hardest for Rodriguez. Though she was ready to return home, ready to see family and friends, ready to give up her week long diet of rice and beans, Rodriguez was not ready to say good-bye to the wonderful people she had met.
On her last day someone borrowed a guitar from a Haitian doctor and music filled the air. They sang everything from "House of the Rising Sun" to "Leaving on a Jet Plane" where listeners and singers filtered in and out all day.
"Big, strong men were crying," Rodriguez recalled, "It was really sad."
Because of her week in Haiti, Rodriguez knows her life will never be the same. "It's like my eyes are finally unclouded," she said of the experience. She describes it as truly rewarding and a blessing, and, although she has hardly been back a week, Rodriguez is already planning another trip to Haiti in a couple of months.
She reports that there is still a lot of work to be done and encourages anyone who wants to do more to help the earthquake victims to seek out the opportunity.
Rodriguez emphasized that volunteers do not need a medical background, but to contact CRUDEM and ask them what you can do. "It's a trip that will change you for the good," she said, "Do not miss out."
Throughout all the devastation and grief, one thing Rodriguez will remember forever: the undying spirit of the Haitian people.
"They are so strong and willing to keep going. Amazing."