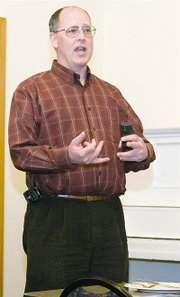 Up to the minute weather forecasts for southeast Washington and northeast Oregon are available at the click of a mouse thanks to the Pendleton National Weather Service Forecast Office, operated by the National Oceanic and Atmospheric Administration.
Sunnyside Noon Rotarians heard from warning coordination meteorologist Dennis Hull this past Monday as he detailed ways to navigate the Pendleton National Weather Service Forecast website, located at www.weather.gov/pendleton.
The weather service covers 19 counties in eastern Washington and northeastern Oregon. The website shows severe weather in these areas and also provides a seven-day hazardous weather outlook.
"This provides the expected weather hazards for the week," Hull said.
The information can include probability of snowfall amounts, river observations, river forecasts and precipitation forecasts.
There is even an activity planner where the user can enter a time and date of place they might visit. The website then displays what the expected conditions will be in that area.
The website also offers aviation forecasts. This provides the aviation community with detailed cloud height and visibility forecasts for airports and commonly traveled flight routes.
Watches, warnings and advisories are also available on the website. These alert the public to all weather hazards both day and night.
Hull said some of these hazards could include winter storms, ice storms, blizzards, high winds and flooding.
Hull said besides the weather service website, travelers can get information about weather from NOAA weather radio. These broadcasts warn of urgent or routine weather information 24 hours a day, seven days a week.