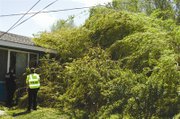 Yesterday's winds caused fallen trees, dust storms and accidents throughout the Lower Valley.
Law enforcement officials were busy running from one call to the next as a result of low visibility and fallen trees, of which several downed power lines in and around communities.
Sunnyside police responded to four calls, three of which were related to fallen trees or limbs. A tree blocked traffic at South 11th Street and East Decatur Avenue, a limb fell on phone and cable lines in the 100 block of McClain Drive and another tree nearly fell on top of a home in the 1300 block of South Ninth Street.
The homeowner's daughter, Marie Fernandez, said, "I almost parked beneath the tree, but something told me to either move (my vehicle) or go to the store."
The near-miss was something she said astounded her.
"We had no idea the tree could be blown over...it was so big," she continued, stating a gutter on the home was taken down, but further damage was averted.
Sunnyside police dealt with one other incident last night just before midnight. Approximately 10 residents were without power after an underground fuse in the Carnation District blew.
Pacific Power spokesman Tom Gauntt said, "It is possible dust got into the unit."
The power was restored just after 2 a.m. and Gauntt said the power company is not certain if the incident was related to yesterday's wind and dust storms.
Washington State Patrol and Yakima County Sheriff's deputies were on scene shortly after a tree fell across the roadway on Sunnyside/Mabton Highway just after noon. The tree took out power lines to a home and Pacific Power was in charge of disabling the live power. Motorists detoured the scene near Willowcrest Road via nearby roadways.
The sheriff's office also responded to two accidents caused by low visibility. Two vehicles collided at Wellner and Price Road near Outlook and another two vehicles were involved in a collision near Independence and Scoon roads near Sunnyside because of severe dust.
Another two calls were made to Yakima County sheriff's deputies because of low lying power lines in the 4100 block of Sheller Road near Sunnyside yesterday and downed power lines in the 1800 block of Penn Avenue in Sunnyside.
Grandview police, too, had a couple of calls related to the storms. One call was related to a tree that had fallen onto a vehicle in the 600 block of South Division Street.
High winds yesterday across all of Eastern Washington caused dust storms that could harm the health of local residents who breathe the dust.
The National Weather Service (NWS) issued high wind warnings yesterday. The sustained winds caused dust storms in some areas.
Winds stir up dust particles, which can be inhaled deeply into lungs. Dust particles can irritate or damage sensitive tissues in the respiratory system. People with respiratory illnesses, the elderly, young children, pregnant women and anyone engaged in strenuous physical activity outdoors are most at risk.