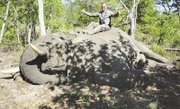 There weren't any bears or tigers but there were plenty of lions and 'oh mys' for Gary and Annette Christensen on a recent hunting safari the couple took last December.
Gary Christensen, an avid trophy hunter, and his wife Annette, went to Tanzania where Christensen hunted for big game.
The guest speaker at Monday's Sunnyside Noon Rotary Club meeting, he said he wasn't really interested in going to Africa to hunt until about 10 years ago, when he made a bid on a safari trip. Since then he has made about five trips to the dark continent.
Tanzania is known for its wildlife habitat and abounds in a variety of animals and birds. Many areas of the country remain untouched by humanity and it is still possible to enjoy a traditional tented safari, much like the famous hunters of old times did many years ago.
Christensen told the Rotarians he hunted in an area known as Lundra South. He brought down an elephant on his trip, one believed to be between 65 and 80 years old.
"It had been kicked out of the herd," Christensen said.
It is only these elephants, the ones that have been left on their own, that are allowed to be hunted.
Once the animal was slain Christensen said villagers came from as far away as 30 kilometers to harvest the meat. They took everything, he said, nothing was wasted.
Christensen did keep the tusks, the ears, which he said weighed between 150 and 200 pounds, and the legs. He plans on making a table out of the legs.
In any given year, Christensen said there are about four elephants killed each year. On Christensen's hunt, his elephant was the only one killed that year and the villagers were happy to get the meat.
Christensen also killed a lion and a leopard on his trip. In order to do this he had to kill animals for bait. Christensen shot two zebras, a baboon and an impala that he used to lure a lion and a leopard in close.
The lion he shot weight between 500 and 550 pounds and was 10 and a half feet long. The first shot on the lion didn't kill the animal and Christensen and his guides had to hunt for the animal the next day to finish the job.
In the time that Christensen and his wife were on the safari they also got an up-close experience with a Puff Adder, one of Africa's deadliest snakes. Christensen was able to get a nice photo of the reptile, from a safe distance, of course. He also mentioned that his group passed a black mamba, another deadly snake, along their route.
Although Mrs. Christensen didn't do any actual hunting, she was along for the ride with her husband. She said she didn't feel nervous except for one night when they were sitting in their blind and several lions were in the area, roaring and doing whatever lions do.
Christensen used a 416 Rigby single-bolt rifle to shoot the big game he bagged. The bullet was a 400 grain shell. He said a normal hunting shell is about 160 grain. He used a 300 Winchester Magnum for killing the plains game.
Christensen will display the animals he got on his recent safari at Mid-Valley Dodge in Grandview.