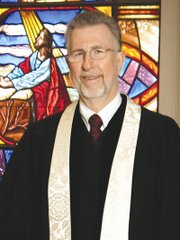 The Reverend F. Mark Dowdy is retiring May 30 from The United Churches of Olympia after 23 years of service in that congregation.
The two-denominational church, Presbyterian (USA) and United Church of Christ, formed as a federation in 1916.
Dowdy has served three churches during his 41 years in ministry.
Prior to moving to Olympia, Dowdy served the Sunnyside Presbyterian Church.
During his senior year at the Dubuque Theological seminary in Dubuque, Iowa, Dowdy served his seminary internship at the First Congregational Church in Dubuque. Following his 1969 graduation from seminary in Dubuque, he was called as associate pastor of Opportunity Presbyterian Church in Spokane before later moving to Sunnyside.
Dowdy has also served on several regional denominational committees at the Presbytery of Olympia, and has participated regularly in the Pacific Northwest Conference of the United Church of Christ.
Dowdy was highly involved in the community through the Panza group, Camp Quioxote (homeless camp in Olympia, which was hosted three times by The United Churches of Olympia), Interfaith Works, and as a member of Olympia Kiwanis.
Dowdy's last sermon at The United Churches of Olympia will be on Sunday, May 30, at 10 a.m. All are welcome to attend the service, 110 11th Ave. S.E., Olympia.