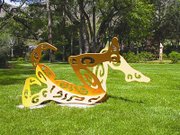 GOLDENDALE - A host of events are planned or are underway at the Maryhill Museum of Art.
Coming up on Saturday, May 15, is the museum's Best of the West Northwest Wine Auction this year.
Honorary co-chairs of the event are Washington state Governor Gregoire and Oregon state Governor Kulongoski, and the special guest this year is Washington State's Secretary of State, Sam Reed.
Auction chair Wade Fickler and his team have produced more than 60 lots for the live and silent auctions.
Packages include the "Let 'er Buck" Pendleton Roundup package, a Seattle football package (Huskies vs. Beavers), an OPB tour package, a Hood River tour package for four, as well as beach house packages to Gearhart, Manzanita and Bandon.
The event begins at 5 p.m. Saturday, May 15. Admission-which includes the reception, dinner and the auction-is $100. To register call Sandra Leibham at 509-773-3733.
Also on May 15, the museum will plan activities for Founder's Day.
Activities on Founder's Day take on special significance this year, given that it has been 70 years since Maryhill Museum first opened its doors. To celebrate on May 15, visitors can look forward to a program of reminiscence by a slate of notables, including Washington Secretary of State Sam Reed; Michael Oros, president of the Romanian American Society; Elizabeth Ives Hunter, executive director of the Cape Cod Museum of Art; Pat Courtney Gold, Wasco basketry weaver and artist and Bonnie Beeks, president of the Klickitat County Historical Society.
The anniversary program runs from 2 to 4 p.m.
Concurrently, children 17 and under can engage in family fun-making sculptures out of marshmallows and toothpicks from 1 to 4 p.m. For family fun days, children 17 and under are admitted free with one paying adult.
To see the full program go to the museum's website at maryhillmuseum.org
Mid-May also marks the end and beginning of some exhibits at Maryhill.
The exhibit winding down is "70: Seven Decades of Collecting at Maryhill Museum of Art." It started in March and wraps up May 31.
To celebrate Maryhill's 70th anniversary, curator Steve Grafe has tapped the museum's collection for an exhibition of work that may not be familiar to many previous museum visitors.
May 15 also marks the opening of the museum's outdoor sculpture exhibit.
Again in homage to 70 years, Maryhill will celebrate the sculpture in its collection during the outdoor exhibit season.
As a result, in addition to work permanently on display in the sculpture garden, visitors from May 15 through Oct. 3 will get a chance to encounter work they may not have seen before.
Grafe and some of the exhibiting artists will lead a walk through the garden at 4 p.m. May 15. To get an idea of what delights the garden holds-and might hold-go to the museum's website at maryhillmuseum.org