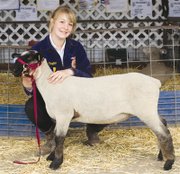 TOPPENISH - The Sunnyside High School FFA chapter competed this past week at the Central Washington Junior Livestock Show in Toppenish.
Freshmen Victoria Schenck and Hanna Markham, and seniors Jennifer Crane and Audra Hays entered lambs into the competition.
Meanwhile, junior Baylie Yates and sophomores Christopher Bestebreur and Megan Wind entered their hogs into the event.
The students set up their display on Saturday, May 1, and prepared for four days of showing, competing and selling their livestock.
Victoria Schenck had never shown an animal before, but her lamb Buttercup won gold in fitting and showing. She had prior experience raising horses and dogs, but her lamb was the first time Schenck raised an animal that was not her pet.
It was not easy to raise an animal you have to get rid of, Schenck said, but you get results from all the hard work.
Megan Wind did not bother naming her two hogs. She got started raising animals six years ago. Her sister had raised sheep, but Wind decided on hogs because she knew they were less difficult to work with.
Wind has raised four hogs every year since, but this year she has 14 because one sow had a litter.
Meanwhile, Christopher Bestebreur celebrated his first win. His hog, Chop, won silver in fitting and showing.
Bestebreur's mother says her son has been involved in raising livestock for four years and he keeps getting better and better. But both acknowledge it has a lot to do with the temperament of the animal you work with.
Bestebreur says he likes almost everything about raising livestock, except waking up early in the morning. The family has a self-feeder, but the big pig has to be feed by hand.
Raising livestock has been in her family for years, Baylie Yates reports. Her hog, appropriately named Boss Hogg, won second place honors in the market division in Monday's competition.
Unlike her classmates, Yates says there is nothing she does not like about raising her animals. Even cleaning the pig pen is no big deal.
"It's all part of the experience," Yates remarked.
Overall, the Sunnyside FFA chapter put in a good effort this year at the Central Washington Junior Livestock Show. Many will continue on to show their animals at the Yakima Valley Fair and Rodeo in Grandview this coming August.