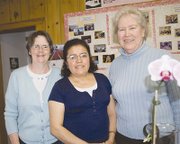 Many experiences throughout her life have made Maria Luisa Gonzalez a motivated person, eager to learn and grow so that she may one day become a nurse.
"I have always wanted to be a nurse," she shared, stating she stopped attending school in Mexico after the sixth grade.
She is, however, steps closer to achieving her dreams after having studied English and passing four GED exams on the first attempt at the age of 48 with help from Sunnyside's Nuestra Casa.
Because she enjoys reading, Gonzalez would read every textbook her brothers brought home with them from college after she stopped her schooling.
In the early 1990s she immigrated to the U.S. "I hadn't met anyone who spoke English before." She noted the experience was eye-opening.
Gonzalez understood animal names, but that was about it. Eager to learn the language, Gonzalez would practice her skills on others.
"I was working at Snokist (in Grandview) and the easiest name for me to remember was donkey," she shared, stating little donkey is "burrito" in Spanish.
She and some friends crossed the street one day to purchase lunch at Smitty's Conoco, but her friends didn't know any English.
Proud she could order two burritos, Gonzalez said she ordered "two little donkeys." The clerk looked perplexed, so she pointed to the burritos in the warmer at the convenience store.
Because she received what she wanted, Gonzalez said she thought she had ordered correctly, not understanding the word burrito had a different meaning in this country.
"I learned later I wasn't right," Gonzalez laughed.
In 1995 she married her husband Daniel. He promised to help her learn English and to drive.
"I really wanted to speak English," Gonzalez explained, stating her husband was a busy man and hadn't been able to teach her the language in his spare time.
"English classes were at night and I couldn't go because I didn't know how to drive," she continued.
The next year, life changed for the couple. Their son Daniel Jr. was born with disabilities, and Mrs. Gonzalez found she needed an interpreter when she went to medical appointments with the infant.
"I really wanted to learn English," she emphasized, stating the numerous appointments forced her to obtain her driver's license to meet the needs of her son.
Someone gave her a flyer, advertising English classes at Nuestra Casa while she was at one of her son's appointments.
"I thought 'This is my opportunity'," Gonzalez recalled.
She met with Sister Mary Rita Rohde, inquiring about the classes offered by Nuestra Casa. "She was very kind and very patient," shared the proud student.
Gonzalez began taking English classes at Nuestra Casa in Sunnyside and she learned quickly.
"There was a lot of practice, especially the basics...at the time I would get frustrated because I wanted to learn more," Gonzalez remembered.
Rohde interjected, "Maria is very motivated to learn...she is probably in the top one percent of those I have taught."
Gonzalez continued, "I realize now it was all for practice."
Through the learning opportunities provided her at Nuestra Casa, Gonzalez said, she has come to realize anyone is capable of doing what they desire if they really want to.
"Everything we want we CAN do!" she shared, stating she also took citizenship classes at Nuestra Casa and passed the exam with a 100 percent on the first attempt.
Because her dream to become a nurse hasn't wavered, the staff at Nuestra Casa encouraged Gonzalez to participate in the GED classes provided by the organization.
"I didn't think I could pass them," she shared, stating she had her doubts.
Gonzalez realized, however, each step she took brought her that much closer to achieving her dreams.
She began taking GED classes approximately two years ago and decided she wasn't going to go easy on herself taking classes provided in her native tongue.
Nuestra Casa's classes are available only in English. "When I first started taking English classes, I remember Sister Mary Rita Rohde saying college classes are in English," Gonzalez said.
She said learning English has opened a world of opportunities to her, including the ability to daily translate the news stories from the local newspaper to her husband and mother.
Pushing forward, Gonzalez began her GED courses, but soon found Sister Peggy Kennedy moved at a pace that was slower than she liked.
"She wanted and needed to learn faster," laughed Kennedy, adding Gonzalez took it upon herself to learn the materials contained in the study books at a quicker pace.
To do so, Gonzalez used resources at her disposal. She would call one of her brothers, a university math professor, in Mexico for assistance in the math curriculum.
"Much of her coursework was self-taught," shared Kennedy.
After having taken the classes and learning the content of the curriculum, Gonzalez signed up for the GED exams.
If taken within a year's time, all five exams cost $75. She has passed the English reading, math, social studies and science exams thus far. She will tackle the English writing exam within the next month.
"She passed the four she has taken on the first attempt, which is very difficult," shared Rohde.
Gonzalez is proud of all she has accomplished so far. She has hopes of inspiring others to reach for their dreams, as well.
Once she has obtained her GED, she has plans of enrolling in college classes to pursue a nursing degree.
"My brothers helped me...my husband promised to buy me a new ring when I get my nursing license," Gonzalez shared.
Throughout the years of obtaining her education, Gonzalez has been the primary caregiver for her disabled son, who is confined to a wheelchair. She has worked her schedule, balancing the care of Daniel Jr. and her other son Emmanuel with reaching for her goals.
"God gives me the strength...my life changed when I came to Nuestra Casa because I have made good friends," she shared, adding her dreams are now within reach and she believes nothing she has achieved would have been possible without the support provided by those around her.
"I have moral support and spiritual support," Gonzalez noted, adding the people she cares about have helped her see success is a state of mind.
"Anyone can do what they want if they really want to," she reiterated.