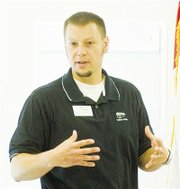 Karl Vanevenhoven, director of operations at Yakima Chief, Inc., spoke to the Daybreak Rotary Club early this morning about his recent trip to Turkey through the Washington AgForestry Leadership Program.
Vanevenhoven began by explaining the Washington AgForestry Leadership Program and the two-year training designed to develop leaders for natural resource and rural communities.
The program is a series of seminars that cover important topics and skills such as public speaking, working with the media, social issues, business and rural issues and the Columbia River system.
The program also includes an international seminar. Vanevenhoven and his class went to Turkey for their international seminar this past January.
Vanevenhoven reported that the group was aided by a pair of tour guides, a British couple, who had lived in Turkey for 28 years. Together, the class of 24 and the tour guides traveled the country visiting both traditional and non-traditional locations. The majority of the trip focused on significant industrial locations.
The group traveled by plane and by bus to towns all across Turkey, visiting Istanbul, Urfa, Harran, Izmir, Kusadasi, Ephesus, Pamakkale and Antalya.
In Urfa, Vanevenhoven stayed with a host family that he found to be extraordinarily welcoming and kind. They got to experience a little taste of everyday Turkish life and culture during their time with the family.
The tour made a particularly important stop in Izmir, where they visited a brewing company called Turk Tuborg. This company purchases Washington hops and they provided the group with a detailed tour and tasting opportunities.
In Kusadasi, Vanevenhoven noticed that the seemingly primitive mud homes were all adorned with large, round satellites, illustrating the merger of modern technology and traditional living.
Vanevenhoven also visited the U.S. Embassy in Istanbul, a reconstruction of an ancient library in Ephesus, and the first Islamic university in Harran.
But this was intended as an industrial tour and the industries visited were very diverse. While in Pamakkale, Vanevenhoven visited a geothermal plant and in Antalya, the group visited a fig plant, which Vanevenhoven noticed had exquisite marble floors. It was a peculiar thing to see in a plant, but it was a fine example of how common and inexpensive marble is in Turkey.
The Turkish people were wonderful, Vanevenhoven said, and he was proud to be among a group that helped spread a positive image of Americans in a country that is over 98 percent Muslim.
Vanevenhoven graduated from the Washington AgForestry Leadership Program this past Friday, but it is clear that to him the trip to Turkey was the educational experience of a lifetime.