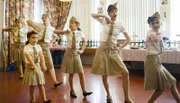 The employees of Hillcrest Manor were recognized yesterday at an Employee Appreciation Tea.
Families of the residents donated cookies and flowers to the event.
The Laverman family took a moment to thank the staff of Hillcrest Manor on behalf of the families and James Knapp, a current resident of Hillcrest Manor, talked about what Hillcrest Manor has meant to him and how its employees have helped him.
Reverend Ron Jetter also spoke to those gathered about the partnership between Hillcrest Manor and Lower Valley Hospice and Palliative Care. He emphasized that the very best care givers are those who are called to do it, rather than those seeking a paycheck.
He was happy to report that the care givers at Hillcrest Manor have all been called to their work.
Nine employees were present to receive anniversary pins. Lisa Foster, Becky Isley, Jennifer Maarhuis and Melissa Vandertop received their 5-year pins. Manuela Espinoza, Ana Garcia and Cruz Hall received 10-year pins. Sonya Berkompas was awarded her 15-year pin and Gale Olson received his 25-year anniversary pin.
Sarah Moore was also honored by being named employee of the year.
The Sevigny daughters were brought in as entertainment and they thrilled the audience by singing classic songs like Judy Garland's "The Trolley Song," "Friendship" and the Andrews Sisters' "Boogie Woogie Bugle Boy."