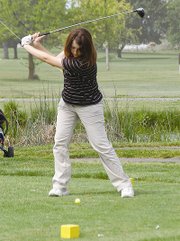 The Grandview High School girls golf team's season came to an abrupt end yesterday at the CWAC District tournament, staged at Sunnyside's Black Rock Creek Golf Course.
The lone Lady Greyhound linkster to complete Tuesday's 18-hole round, Kayla Lucas, finished in 39th place from the 44-girl field. Only the top 14 finishers at District get to move on to the 2A State tourney, to be held May 25-26 at Yakima's Apple Tree Golf Resort.
Lucas, in placing 39th overall at District, toured Black Rock Creek's par-36 front nine with a 77. She carded an 86 after the clubhouse turn to tally a 163 on the day.
The cut line to move on to the State tourney proved to be a 115.
The two highlights on the day for Lucas came on the par-3 second hole and on the par-4 fifth. She double-bogeyed both holes.
Claiming the low individual rounds at the CWAC District tourney were Skyler Key of Ephrata and Briana Nelson of Selah, each of whom shot a 24-over-par 96. Key went 49-47 on the front and back nines, while Nelson flip-flopped that with a 47 on the first nine holes and a 49 on the back side of the course.
The only other golfer to break 100 yesterday was Carolina Borba of Othello, who shot a 99 (51-48).