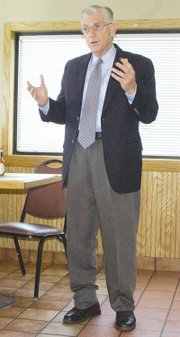 Bruce Chandler said the past legislative session in Olympia was strange. His fellow 15th District legislator, David Taylor, was more descriptive.
"The experience can be described as chaos and mayhem," he said.
Both were on hand at this morning's (Friday) Sunnyside Republican Club meeting to give club members a view of how the past session went.
"It was a very interesting year," Chandler said. "I knew it was going to be strange when the governor came out with the budget and said she wasn't going to support it."
The first dismal act passed by the legislature, according to Chandler, was the suspension of the taxpayers' protection act. This form of legislation required voter approval or a two-thirds vote in both houses of the legislature to raise taxes.
"The session went downhill from there," Chandler said.
Chandler, who sits on the ways and means committee, said that position allows him to see almost every policy as it is built. What's important about the recently passed state budget is that all of the work that was required to get it passed only reduced it by 1 percent.
"That's not what the hard working people of Washington were expecting or deserved," he said.
In short, Chandler said, there are no long-term solutions in the budget. One white elephant in the room is the state pension fund.
Chandler said 60 percent of state employees will become eligible for benefits from now until 2014. The problem, Chandler pointed out, is that the state hasn't been paying the employer portion into the state fund.
"That's a huge bubble," Chandler said. "The negative impact will be far greater for local governments."
He expects next year to be a challenging session and the state will start the year with at least a $5 billion hole. A lot of that, he said, will depend on tax revenue received in the last two quarters of this year.
Taylor began his portion of the meeting by quoting former President Ronald Reagan.
"Government does not solve problems, it subsidizes them," he said.
He said there were three good pieces of legislation that came out of the past session.
One was Washington businesses now have two days to come into compliance with any rules before the state can act. Another was a public safety bill, he said was passed. This bill gives judges more leeway to deny bail.
House Bill 2591, which Taylor said would have increased water fees, did not get adopted. He credited Chandler with single-handily killing that bill.
Senate Bill 5446, which passed, established collective bargaining for symphonies and orchestras. This revelation drew an exasperated laugh from the club members.
Another was House Bill 2561, which he said allows $505 million in bond debt that is outside the state debt limit. Taylor, however, feels this bill will be voted down in the long run.
He rhetorically asked what state legislators can do to help the state economy.
"Not much," Taylor said.
Taylor said the economy can only revive itself through the help of private businesses and local governments.
He did have some good predictions for the November elections, however. Taylor predicted that Republicans have a chance to pick up at least 16 seats.
"People aren't happy with where we are going," he said of the direction of the current Democrat-controlled legislature in Olympia.