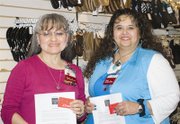 Each year JC Penney associates throughout the company are asked to participate in its After-school Round-Up event, raising funds for after-school programs across the nation.
The funds, said Sunnyside Store Manager Lynn Giraud, are distributed to local programs, such as the Yakima Valley 4-H program.
This year two of the top three associates in the Portland District were from the Sunnyside store.
Carman Sandoval and Sylvia Moctezuma have nearly a combined 40 years of working for the store. They helped the company raise more than $1.3 million to assist after-school programs.
"We ask each customer to donate their change to the After-school Round-Up program," shared Sandoval, who has been working at the store for 29 years.
Moctezuma said the donations can be in the amount of one penny to 99 cents, but customers can opt to donate more if they wish.
The ladies both said their efforts at helping raise funds for the program wouldn't be possible without the generosity of local customers.
It is unknown how much each of the associates raised, but they are pleased they were among those who raised the most money in the district.
The district, shared Giraud, consists of 19 stores, of which Sunnyside is a medium sized location.
JC Penney corporate each year donates to the local 4-H programs and she said she is uncertain how much of the money will be given to the local program this year.
"I won this last year," shared Sandoval, who said it is a privilege to help youngsters in the community through the After-school Round-Up.
"I (also) work for the Sunnyside School District, so I am motivated to get people to donate," Moctezuma shared.
She said programs like 4-H help the youngsters in this community learn skills necessary in life. The programs also build character and require dedication from those involved.
Sandoval was surprised to be among the top three associates in the district for the second year. She was duly surprised at the recognition she has received for her efforts.
"I just think it's awesome, but feel it is another way I can give back to the community," she noted, stating the community supports the store and programs like the After-school Round-Up are ways in which the store 'pays it forward.'
"It makes me feel good to know the community is willing to support programs like this, giving youngsters opportunities to participate in after-school programs and make new friends," shared Moctezuma.
The pair was rewarded for its efforts with a $20 gift certificate as well as a certificate of appreciation.
"What amazes me is that Sylvia only works part-time. She is a great employee and really works hard...so it's amazing she could be among the top associates," shared Sandoval, giving her co-worker high praise.