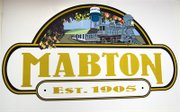 MABTON - "This is the beginning of a whole new look for Mabton," CBC instructor Gene Holland told the Mabton City Council last night.
Holland was referring to the unveiling Tuesday night of a new city logo for Mabton.
Mayor Angel Reyna had previously contacted Holland about having one of his design students develop a logo that incorporated the city's history.
The student, Paul Fulks, presented the logo proposal to council last night.
Fulks' previous work for CBC includes designing wine labels for a series of Willow Crest wines that will serve as fundraisers for the Washington FFA Foundation's scholarship fund.
Featuring a locomotive with a background that includes local crops such as grapes and hops, the Mabton logo design was well received by council last night.
Suggestions were made by council and will be incorporated into the final logo design. The tweaks included converting a field of grass in the background to corn or wheat to better reflect local agriculture.
Another suggestion to be incorporated is changing buildings in the background of the logo to look more like homes from 1905.
The logo will be changed to reflect the changes approved last night. A model of the logo is on display at Mabton City Hall.
Fulks researched Mabton's history and incorporated some tidbits of Mabton's past, such as placing the name "Mable Town" on the train.
Fulks said that is an homage to how the town's name came into being, as the name originated with Mable, a railroad official's wife.
One suggestion that was not approved was to somehow include Mabton schools in the logo. Reyna, though, said the city should have its own look. Holland agreed, noting, "The school has its identity, you need to separate your look from the school's look."
The new look for Mabton comes at no cost to the city, as the project is part of CBC's training program. The only cost will be for the city to produce items such as t-shirts, pins and letterhead bearing the new logo.
The new look won't stop with a logo, as Holland is also working with Mabton to develop an official city web site proposal.