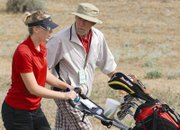 RICHLAND - You drive for show and putt for dough...those words are muttered on golf courses everywhere.
Sunnyside's Renae Visser had the first part of that phrase down pat yesterday. But her putter, well, that was a different story.
"Everything was working well for Renae, except her short game," said Sunnyside High School Girls Golf Coach Gary Rohde. "The chipping and putting, it just didn't come together.
"Maybe nerves...I don't know. Some days the chips and putts just aren't there," he said.
Visser, a Sunnyside Christian High School junior who plays for the Sunnyside Lady Grizzlies because her school doesn't field a golf team, on Tuesday morning was making her second straight appearance at the WIAA 3A State Girls Golf Tournament. Despite not being able to get her short game together yesterday at Richland's Horn Rapids Golf Course, Visser still managed to make a pretty decent run at qualifying for day two action at State.
The cut line to advance to today's final round proved to be a 17-over-par 89. Visser finished just three strokes back of that mark. She carded an 8-over-par 44 on Horn Rapids' front side, but ballooned to a 12-over 48 after the clubhouse turn.
Her 18-hole round of 92, justifiably, leaves her wondering where she could have shaved three strokes off her total. Finishing three shots back of the cut line might be even more difficult to swallow, considering Visser posted an 88 at Horn Rapids the day before during a practice round.
"Yes," answered Rohde, "You always look back and say if I had just done this, or that, trying to figure out where a stroke here or there could have been eliminated.
"But in Renae's case, in the bigger picture, she needs to look at where she's at compared to her experience in the playoffs last season.
"This year at Regionals, Renae finished nine strokes below the score she had at Regionals as a sophomore. And, she's 11 strokes lower at State this year than the score she had at State last season," Rohde said.
"That's basically a 10-stroke improvement from this time last year to now. That's some real improvement on Renae's part.
"If she continues to improve, I look for some very good things from her when she competes as a senior," he added.
Visser's opening nine at Horn Rapids yesterday morning was solid enough. She started with a par, bogeyed the second hole, then stumbled and absorbed a pair of double-bogeys. At that point it may have felt like one of the wheels was coming off her cart, but Visser got back on track and closed out the final five holes on the front side by going par, bogey, bogey, bogey, par.
The second nine wasn't as kind to the Sunnyside junior.
A pair of double-bogeys greeted her immediately after the clubhouse turn. Visser found a bit of relief by claiming a par on No. 12, a 485-yard, par-5 affair. Her downfall, however, came on the next three-hole stretch, going six-over during that span with a double, bogey and triple.
With the closing three-hole stretch run ahead of her, despite her struggles, Visser was still in the hunt to qualify for day two action. She needed to finish with two pars and a birdie to reach the cut line.
She took care of the first order of business by snaring a par on the 298-yard, par-4, 16th hole.
On No. 17, a 102-yard, par-3 hole, Visser pushed her tee shot just right of the green. She managed a decent chip shot to get her ball onto the dance floor, but as had been the case for most of the day, her par putt went begging, refusing to drop.
Visser backed up the bogey she absorbed there with another bogey on the 18th hole to finish at 92.
The day one leaders at Horn Rapids were Kristin Tan of Holy Names Academy and Savana Bezdicek of Mt. Spokane High School. They each carded a 1-under-par 71. It was Bezdicek who set the women's course record at Spokane's Wandermere Golf Course at the District 5/6 Regional tourney a week ago by shooting a 66.
One shot back of Bezdicek and Tan yesterday, at even-par 72, was Peninsula High School's Rachel Lewis.
The only Central Washington golfers who qualified for today's final round at the 3A State girls golf tourney were Taylor Kain-Godoy of Hanford (80), Anna Elofson of West Valley (81), and Hanford's Kelsey Aiello (88) and Bri Hadler (89).