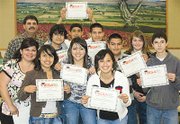 This past Tuesday evening, Tri-Cities MESA officials organized a catered dinner for Sunnyside High School students pursuing a higher understanding of math, science and technology.
MESA, which stands for Math, Engineering, Science Achievement, creates collaboration between industry, business and academia to help support the under-represented students in those fields. In fact, 80 percent of the students involved with MESA are female.
MESA operates out of Washington State University in the Tri-Cities and assists five high schools, three of which are located in the Yakima Valley.
The students being honored at last night's dinner, held at Sierra Vista Middle School, have all performed well in their math and science classes. Many have worked on science fair projects and others are members of Sunnyside High School's Engineering Club.
High school science teacher Joyce Stark was there with the science fair department student government, to award letters, patches and pins to qualifying students, as well as to honor community sponsors who helped orchestrate and support students in participating in the science fair.
There were 10 sponsors honored last night but only a few of them showed up to partake in the celebration. They represent a variety of local medical and veterinary clinics such as Wedam Vet Clinic, Sunnyside Physical Therapy Services and Hillcrest Manor.
The MESA director from the Tri-Cities and the high school coordinator, Neiri Carrasco and Adriana Saenz, were both present to issue certificates to mark the achievements of the students.
Many of the students participated in the local, regional and state science fairs. Junior Courtney Stiltner even attended the International Science Fair in San Jose, Calif. as an observer after winning third place honors at the Washington state science fair.
MESA has been involved with boosting students from the Sunnyside School District for approximately 15 years, but this is the first year the program has been able to bring them all together in a celebration.