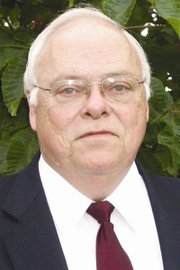 Michael Everett has served the Lower Valley in both his capacity as an attorney in Grandview and a municipal court judge in Wapato.
He has worked with community organizations, such as the Lower Valley Youth Soccer League, and is a founding member of Lower Valley Hospice and Palliative Care.
The Grandview native is currently seeking the position of Yakima County District Court judge position 4.
Incumbent Ralph Thompson Jr. is not seeking re-election, but Everett will be running against Bronson Faul and Doug Federspiel, as well as Sonya Langsdorf for the position.
Everett's experience as both an attorney and a judge in Wapato, he said, led community members and colleagues to encourage him to run for the seat.
In Wapato, he replaced a judge that had been removed from the bench. The city, he shared, has had a history of DUI issues. During his six years as judge there, he turned the court around.
He accomplished his goal of holding those charged with DUIs accountable on a "shoestring budget," making Wapato Municipal Court, he said, one of the three toughest DUI courts in the state of Washington.
"For instance, the court must be recorded according to state law. Wapato didn't have a recording system when I took the bench and the city didn't have the money for a recording system. I had to borrow a system from Yakima County until funds for a system were available," shared Everett.
If elected to the District Court position, he would serve in both Grandview and Yakima.
Everett said his goal is to hold offenders accountable. He is a strong believer in the justice system and seeing that the community is a safe place to live.
He also recognizes some individuals have the potential to straighten up their lives. Because of this, Everett sees the benefits of using community resources, such as drug and alcohol treatment programs. He said the courts can advocate the use of such programs.
When asked about the change in career, Everett said he left the municipal court bench because it was a part-time affair, taking time from his law firm. If elected to the District Court, he would turn the legal office over to his son Tyler, who works at the firm already.
The District Court is different from a municipal court in that it handles cases from all over the county. Judges in the District Court also preside over some civil cases, with a limit of hearing cases that max out at $50,000.
Everett has a passion for the community and the law. Having grown up in Grandview, he has seen the communities in Yakima County change. As a grandfather and a man who raised his four children in Yakima County, Everett wishes to keep the community safe and healthy.
He is dedicated to serving those in the community and is seeking the support of voters so that he can bring his experience and passion to the District Court.
Another area of concern affecting the communities of Yakima County is domestic violence. Everett said, "I want to ensure the safety of families affected by domestic violence."
He said he will continue partnering with organizations like Lower Valley Crisis and Support Services to help victims of domestic violence.
Everett, a Vietnam veteran, takes his role in the legal system seriously.
He said his goal is to ensure those who have committed crimes are held accountable to the extent of the law. He isn't afraid to get tough and feels his compassion for the community will help him remain a balanced judge on the bench.
"During my time on the bench I never lost sight of the fact that each individual who came before me was a person worthy of respect who deserves to be heard and that the community deserved everyone be held accountable for their actions," Everett stated.