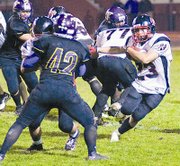 GRANDVIEW - It's still very much in the draft stages, but last week the Grandview City Council began picking its way through the joint library agreement with YVCC.
The combined library, to be built next year, will be located on the YVCC Grandview campus.
The college will own the building and pick up costs for maintenance, while Grandview will provide library staffing. Grandview library Geraldine de Rooy will oversee day-to-day operations.
Council's review of the agreement took place during a study session prior to this past Tuesday's council meeting.
Most of the areas of concern were brought by Councilman Mike Bren, who noted the omission of the following:
- A minimum number of hours each week the library will be in operation.
- Responsibility for the library's collection: Anticipating that YVCC students will use the library more than Grandview residents, Bren asked for something in the contract to make sure the college accounts for new book purchases as needed by its students.
The reverse should hold, Bren said, if it turns out more Grandview residents make use of the library than YVCC students.
From the college's perspective, vice president of administration services Teresa Holland told Bren and council that the "college is putting in funds to support the purchase of academic books."
- A legal description of the property site.
- A coordinated parking policy.
- Details on staggering the terms of office of the library's six advisory board members, three each from YVCC and Grandview.
Council, Mayor Norm Childress, Holland, City Administrator Cus Arteaga and de Rooy all agreed to have Bren's concerns addressed in future drafts of the joint library agreement.
The proposal presented this week was the seventh draft of the library agreement between YVCC and Grandview. That draft will be revised following the comments at this week's meeting and presented to council at a later date.