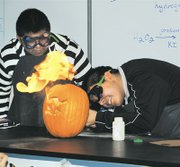 Students in Joyce Stark's science classes were granted special permission to use their cell phones this past Friday. But this was not a chance to text or talk. Instead, students focused their cameras and caught some oozing and explosive fun made possible by the magic of science.
When students arrived to class, they received a balloon and a six-sided nut for their first project. Students placed the nut in the balloon and filled it with compressed air creating a "screaming balloon." When students shook the balloon, the effect of the nut in the balloon created an eerie wail.
Stark informed the class that this is a project they can do at home, but most of their experiments that day were rather dangerous and should not be recreated.
For example, what happens when a lighted match strikes a soap bubble filled with methane gas?
This exciting experiment had students lining up to be the one to try and hit the floating bubble to create the fireball that resulted, but Stark warned the students how dangerous this project was throughout.
Another project had students using lycopodium powder (spores from a fern) to create a flaming pumpkin.
Two other projects had students using 30 percent hydrogen peroxide and ordinary dish soap to create what Stark called "elephant toothpaste" and "the oozing pumpkin."
The final experiment for the evening was the "ghost in the bottle". Stark created a "ghost" out of a tissue and manganese dioxide. When it reacted with hydrogen peroxide inside a Squirt bottle, different reactions were possible.
Sometimes, a column of steam escaped the bottle, other times, the ghost came out of the bottle. But each time, the Squirt bottle shrunk significantly in size.
These Halloween inspired experiments kept the class riveted, but the students were learning throughout, from friction to various chemical reactions.