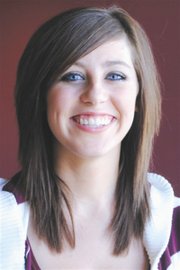 Samantha Bridger has always wanted to be a nurse and her most recent commitment gave her a taste of what lies in her future.
Bridger volunteered approximately 65 hours last month at Sunnyside Community Hospital. Though she is still a college student, the experience has given her the chance to explore careers and opportunities in her chosen field.
A Sunnyside High School graduate, Bridger recently attended Washington State University in the Tri-Cities on her way to an Associate of Science degree before entering the nursing program. But when the school did not offer some necessary classes, Bridger elected to enroll at Yakima Valley Community College to finish out her degree.
For nursing school, Bridger was considering either returning to WSU or going to the University of Washington. She knew that UW required students to have hours working or volunteering in the field, so she elected to volunteer at Sunnyside Community Hospital.
"I always wanted to be a nurse, but I've never done any nursing," she admitted.
Bridger's experience has really opened her eyes and allowed her to see aspects of her chosen profession she had never seen before.
She got to experience the ER, OB, ICU and Medsurg. As a volunteer, Bridger said there was very little she could do, but that she still learned a lot.
While Bridger does not know where her future profession will take her, she says she really enjoyed the ICU.
"It's really steady paced," she said - not too busy and not too slow.
But Bridger says she might also consider working at a doctor's office. She saw the hospital nurses take on 12-hour shifts and is not sure she could make that adjustment.
Still, Bridger is more confident than ever she has made the right career decision and learned a lot from her mentors.
She learned about CNA classes being offered through Grandview Health Care and has already signed up. She is also thinking about becoming a licensed phlebotomist.
But Bridger does know she will pursue her Bachelor of Science in nursing from WSU once she graduates from YVCC.
"My big thing," she confessed, "is that I'm worried I won't remember everything." But Bridger said that seeing how Sunnyside Community Hospital nurses managed to handle everything and remember what they've learned has reassured her.