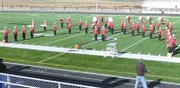 ROYAL CITY - The Sunnyside High School marching band attended the mid-Columbia Marching Band Competition last month and walked away with third place.
The 66 SHS band members competed on Oct. 16, performing a selection of music from contemporary composer Philip Glass. The routine and music was practiced for a week before the start of the school year and every Thursday until the competition, said SHS marching band director Jonathan Stern.
Approximately eight judges, located on the field and in the stands during the band's performance, scored the teams. Sunnyside earned third place honors for their work but Stern says the real value of the competition lies in the experience.
"We get to compete against [other schools] but also watch and learn from what they're doing," Stern said.
The judges also provide the marching band with feedback, highlighting areas that could be improved.
Stern says his students are busy working on the concert season, but they will be focusing on improving their "balance and blend" - or, listening and playing together to improve the overall band sound.