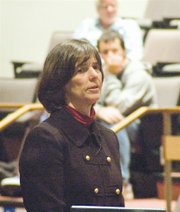 In a rare visit to her alma mater, Dr. Bonnie Dunbar was at Sunnyside High School yesterday, Tuesday, to speak to SHS sophomores.
The 1967 SHS grad detailed for students how her dreams as a child growing up on a farm in Outlook evolved into attending the University of Washington, and eventually, flying five space shuttle missions.
It all started, Dunbar said, because she took the appropriate classes in high school.
Growing up in an era of Sputnik and President Kennedy's call for a manned flight to the Moon, Dunbar said she had the dream of building and flying "space machines."
She shared that dream with a teacher in Outlook just before she went to high school, and he advised her to study algebra, trigonometry and calculus.
That laid the groundwork for studies and academic success that provided scholarships for her to attend the UW and gain a degree in engineering.
Now the director of the Museum of Flight's Wings over Washington program, Dunbar continually worked to achieve her dream, including going to night school in order to earn her doctorate degree and better her chances of being a shuttle astronaut.
Dunbar, who was turned down the first time she applied to the shuttle program, said she was "disappointed, not deterred." That in turn led to her gaining a mission control position in Houston, Texas while she completed her doctorate.
Dunbar says in the future the U.S. is in danger of falling behind in space exploration as China, India, Europe and Japan are all making commitments to space programs.
Closer to home, she challenged SHS students to think about their futures.
"What are your dreams?" she asked them. "Are you preparing yourself for that future?"