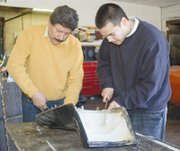 The Sunnyside School District's Choices program has been up and running for four years as a way for at-risk youths to get back on track academically.
Last month, Choices started a job shadowing program with four Sunnyside businesses to help students gain confidence and mentors.
Cherry Fairbanks is a teacher for Choices, and she said the job shadowing effort is just the latest mark of progress for the program.
With the goal of helping troubled students re-connect with the high school, Fairbanks said Choices offers help in several areas, such as counseling for drugs, alcohol, behavior issues and anger management.
During the current trimester, which ends Nov. 29, Fairbanks said the four businesses; Napa, H&H Glass, Hairworks and Horacio's Upholstery, provide the opportunity for students to learn job skills and gain a new mentor.
Horacio DePaz runs the upholstery business that bears his name, and says he enjoys the chance to help a student learn a trade.
"It's a pleasure to help people," he says. "That's how you help your community."
The student working with DePaz is Eduardo Vargas.
"It's letting me know what I have to do to get a job," Vargas said, as DePaz got him started recovering a car seat.
DePaz, who at first was hesitant about getting involved in the job shadow program, now has Vargas help out at his business twice a week.
"He follows instructions. He takes it seriously," DePaz says of Vargas. That kind of praise is exactly what Fairbanks is hoping for.
She says the students aren't paid for the job shadow, but have an opportunity to gain a good reference and mentor
"A lot of these kids haven't had success in school, and we provide the opportunity to be successful," she says. "We're kind of like cheerleaders."
Besides adding the job shadow program last month, another change is in store for the Choices program as starting in December it will have a new name, Bridge to Graduation.
Fairbanks said the name change reflects a change in focus. Previously students in gang-related trouble were in Choices and students who got in trouble on their own were in a program called Transitions.
Starting next month with a new trimester, students in the two programs will be combined. "They need to learn to get along better," she said.
Fairbanks added of the change, "We can provide a full day program that way. They'll be here the entire day so they get a better academic program."