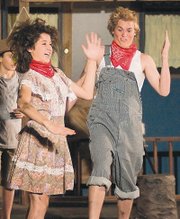 What is 2+2?
If you answered purple, you might be under a 200-year-old gypsy curse.
That's what the residents of Possum Trot in Eddie McPherson's play That'll Learn Ya discovered when Seymour and Edmund came to town and promptly declared them dunces.
Don't worry. The residents of Possum Trot were not upset by this proclamation. They were too busy sweeping with the wrong end of a broomstick and having a jolly good laugh at funerals.
Seymour and Edmond are determined to break the curse, but local townsfolk are far less help than they are an obstacle. And to make matters worse, Seymour reveals they only have until midnight to break the curse or fall victim to it.
The Sunnyside Christian High School has made a habit of staging comedies, but it's hard to find fault with that when they can be so entertaining.
While the ensemble cast is entertaining and funny, there are a couple of characters that stand out among the crowd and really make this play worth the ticket price.
Seymour, portrayed by Josh Stein, and Alice, played by Renae Visser, prove to be two very engaging leads.
Stein is enigmatic and funny, delivering his lines with excellent comedic timing. He also has a particularly hilarious scene toward the end of the first act where he sheds a "few" tears.
Alice, meanwhile, is energetic and engaging from the beginning. Much of Alice's behavior drives the play, and since Alice is a dunce, you can imagine the problems that arise from this fact.
Though Alice and Seymour may be the technical leads, and fit their roles beautifully, there was a pair of crooks who really managed to steal the spotlight.
Ellen (Betsy Knotts) and Leon (Brent Tyhuis) are the town's dimwitted crooks, but they far surpass the term "dunce" and likely land in the range of nitwit and nincompoop.
But Knotts and Tyhuis are as entertaining without saying a word as they are doing something ridiculous (such as hiding from the sheriff and deputy in the jailhouse).
But if this play feels a little familiar, that's probably because it is very much like a cartoon. One almost feels like they may have seen this story enacted by Bugs Bunny and Wiley E. Coyote.
And while the SCHS drama department may be a small program, they managed to take a little and turn it into something fantastic. Their set is extremely well constructed and their costumes are perfect.
The only real issue I have with this play is the shoes. Yes, that is perhaps a small thing to find fault with, but there it is. While the shoes are very much in character, the sound is not. With characters running from one side of the stage to another, it can be a chore to hear some of the dialog.
Nevertheless, That'll Learn Ya is an entertaining and child friendly play for the whole family. It will be staged this coming Friday and Saturday evening at Sunnyside Christian Elementary school starting at 7 p.m.
Students and seniors get in for $3, adults for $5, and children under 5 are free.
It is certainly worth the cost and the SCHS cast deserves the props for their hard work.