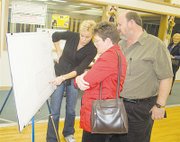 GRANDVIEW - The old and new will meet once the new Grandview Community Center is built at Country Fair Park.
Last night, Thursday, plans for the building were presented to the public. Architect Wescott Edwards with the Yakima firm of Brockway, Opfer, Raab explained the community center will be attached to the George Young Building so the city can get the most bang for its buck in the $1.3 million project.
The reason, he noted, is because input the city has received indicates 10,000 square-feet of useage, when the budget only allows for an 8,000 square-foot building. Attaching to the George Young Building will give the community center 9,700 square feet.
The building will have a wide variety of amenities to not only provide a new area for seniors to meet, but for residents of all ages.
Among the features:
- Pool/game room.
- Gym for both volleyball and basketball.
- An open area for events, such as meal service for about 100 people.
- Corner fireplace area with recliner chairs.
- Park and recreation offices.
- Conference room.
- Space for special programs, such as foot clinics.
- A covered back porch looking out over the park with space for barbecues.
- Kitchen and food service area.
The George Young Building will be given a new exterior to make it blend in with the new construction.
Park and Recreation Director Mike Carpenter said the names George Young and that of Carl Stevens - for whom the former senior center was named - will be incorporated into the new community center.
Thursday night's meeting was held at the former Carl L. Stevens Senior Center, now the YVCC Activities Building, and some of those commenting were from the senior citizen community.
One of the biggest concerns expressed by seniors was trying to drop off people in wheelchairs at double-doors in the middle of the building that will not have protection from the weather.
Edwards said there are already two front entrances that are covered.
Two suggestions made last night included using a portable awning for the middle entrance for large events, or paving a driveway to go around to the back of the building where there is a covered area.
Pointing to Sunnyside's community center which was at one time shuttered, another concern was whether Grandview can afford to keep the building open on a long-term basis.
"We're not Sunnyside, we're Grandview," Mayor Norm Childress assured the crowd of about 30 people. He added that the city is committed to keeping the building open five days a week. "We didn't put $1.3 million into this to not let it be maintained," Childress said.
The general consensus last night was that the community center design is a go.
Edwards reflected the optimism of many in the audience, noting, "I'm excited to see what's happening in Grandview."