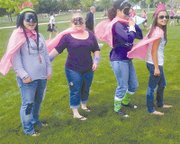 The Sunnyside and Mabton Young Life youth groups are busy planning their performances for their talent show and auction fundraiser.
The event will be held on Thursday, Nov. 11, at the Sunnyside Community Center starting at 6:30.
Proceeds from this event will be used to raise funds for partial scholarships for students to attend camp next summer.
Young Life camp provides the opportunity for kids to get away from the pressures of everyday life, have fun with friends and their Young Life leaders and hear the message of God's love in terms they can understand.
Young Life camp is open to kids who often are overlooked, including those from economically depressed communities, kids with disabilities and teenage mothers.
The camps accommodate almost 90,000 kids for a weekend during the school year or a week in the summer at one of its 20 camping properties in North and Central America.
Young Life is a non-profit Christian youth organization committed to impacting teen lives and preparing them for the future.
Founded in 1941, Young Life strives to build positive relationships with young people in an unstable and confusing world. Active in all 50 states and more than 50 countries, Young Life reaches nearly one million teenagers each school year.
Donations items for the auction are still being sought for the Nov. 11 event. Anyone who has an item they would like to donate, but need the item picked up, can contact Rachel Carrera at (509) 643-2692. A tax deduction receipt is available upon request.