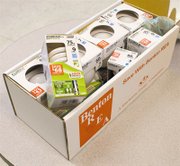 PROSSER - Benton REA is something of an anomaly these days.
Pacific Power is seeking a 20 percent rate hike and Benton County P.U.D. is looking to increase rates by a third over the next few years.
Yet Benton REA, which has customers in rural areas around Sunnyside, is keeping its rates the same heading into 2011.
The utility's ability to keep rates steady is not by accident.
That's according to Chuck Dawsey, general manager for Benton REA.
He says the utility's board has been mindful of a rate increase BPA is planning in October 2011. "We've been budgeting for that," Dawsey said.
As a result, Benton REA has taken what Dawsey calls an internal and external approach to cost savings to prepare for the BPA rate hike.
Internally, Benton REA has taken a conservative approach to new renewable energy sources such as wind power. Same goes for technical advances like reading electric meters by computer instead of with human meter readers.
"These are extremely expensive to implement. We can't make them pay-off," Dawsey said. "We have also avoided a fair amount of the cost of re-tooling programs."
He notes that Benton REA has pursued options for renewable energy, such as a landfill project that generates methane for electricity.
"We're developing resources that are cost effective and financially prudent," Dawsey said.
Dawsey says Benton REA has also tightened its belt considerably in anticipation of experiencing higher costs for energy next year.
"There's nothing fancy," he said. "We operate on a pretty frugal basis."
Externally, Dawsey says his company is taking steps to help customers conserve energy demand.
That outreach includes shipping energy-efficient and longer-lasting light bulbs than typical flourescent bulbs. Also, the company has programs to help with home insulation and to assist large ag producers with more efficient lighting.
With 60 percent of its costs stemming from acquiring energy, Benton REA is also planning to supplement the energy it gets from BPA with power from British Columbia. "It's hydroelectric, much less expensive than green energy," Dawsey says.
Dawsey said while his company will hold the line in 2011, he does see the need for a single-digit rate increase in 2012.
That would be the first rate hike in about a decade for Benton REA customers.
Dawsey says a 2012 rate increase would be a one-time hike.
"The increase we would put into place in 2012 will hopefully last seven years," he said.